Raj Kapoor-the super star actor of his time and one of the greatest storytellers of Indian celluloid had been rightly called, 'Showman'. His contribution to Hindi cinema is known to everyone but did you know that Raj Kapoor was all set to make a Punjabi film but couldn't really!
Keep reading ahead to know the full story.
So, it was back in the 80s, Raj Kapoor was in Chandigarh to attend a govt function which was held in his honour. During his speech on the stage, he was all praises for 'Chann Pardesi' and requested the Punjab Government to encourage good Punjabi Cinema. At the same function, the government officials asked him to make a film in Punjabi and assured all possible assistance from them. Raj Kapoor said he would like to make a film with 'Chann Pardesi' team (consisted of Baldev Gill, Yograj Sedha, JS Cheema and Ravinder Peepat). Also Read : Adah Sharma Had Once Played A Kerala Girl In A Punjabi Song. Which One?
Thus, GhaintPunjab reached out to the writer of Chann Pardesi, Baldev Gill for more authentic information.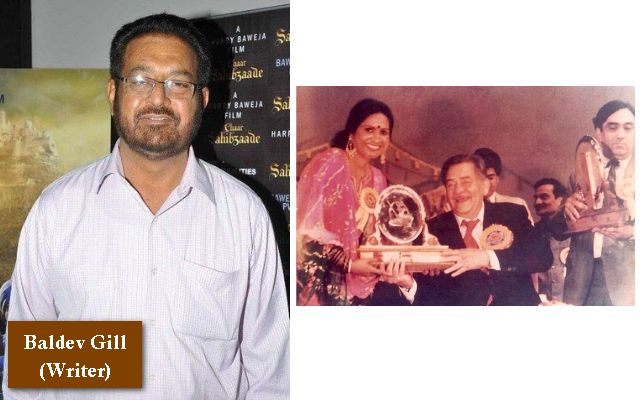 Recalling those times, he shared, "That's true! Raj Kapoor saab had loved 'Chann Pardesi' so much that he had held its screening twice in RK Studio. Even while shooting for 'Prem Rog' with Mr. Kulbhushan Kharbanda, he would tell him, "Aap woh expressions do jo Chann Pardesi ke us scene mein diya tha. Being a Punjabi, he wanted to make something in Punjabi. When government asked him to make some film in Punjabi, he chose to make a film with us. A subject on Hindu-Sikh unity was locked which was taken from Kartar Singh Duggal's story. The film was titled, 'Ik Onkar'. Also Read : Roles To Remember: Babbu Bains From Ardab Mutiyaran
SUBJECT OF THE FILM
"It was about a Hindu and Sikh family which had suffered during the partition and helped each other to survive. The Hindu family had a daughter and Sikh family had a son, both grew up together and fell in love. But by then, both the families had some differences and they opposed the idea of their marriage. Rest of the story was about how young lovers reunite their families.
I and Ravinder Peepat had long discussions about the film and then I went back to my village in Punjab to write a full-fledged script. Upon finishing the script, we were in the process of selecting cast for the film but back home in Punjab disturbances had started. We were supposed to start shooting in Amritsar, but now with Darbara Singh (Congress CM of Punjab from 1980 to 1983) government out of power in Punjab and with president's rule in the state, there was no possibility of permission of shooting. So, everything came to standstill on 'Ik Onkar'. Raj Kapoor was also upset as he was keen to produce this Punjabi film. Later, he got busy with 'Ram Teri Ganga Maili' and soon we started working on 'Waaris'. Had 'Ik Onkar' been made it would have been another jewel by the team of Chann Pardesi", says Baldev Gill as a concluding note. Also Read : Celebrating 10 Years Of The Release Of Dheeraj Rattan's 'Saadi Love Story'- Exclusive Interview & Trivia Inside!
CAST
The cast was officially not announced but actors from 'Chann Pardesi' such as Raj Babbar, Amrish Puri, Om Puri, Kulbhushan Kharbanda and Sushma Seth were likely to be signed for the film. Ravinder Peepat who was assistant director in RK Films was to direct it.
While planning for 'Henna' (during late 70s) he had finalised Daljit Kaur for it but since that film could not start back then, he had verbally promised a Punjabi film with her during an event. In fact, even after completing 'Ram Teri Ganga Maili' and starting working on 'Henna', Raj Kapoor still wanted to make 'Ik Onkar' as singer Sarvjit Kaur had stated on her social media that Raj Kapoor had promised her a song in his upcoming Punjabi film during Kala Shri award function in Delhi but Raj Kapoor passed away after sometime leaving his two ambitious projects, 'Henna' and 'Ik Onkar' incomplete. While his sons went on to make 'Henna' as tribute to their father, 'Ik Onkar' could not get completed. A film which was started on an excitement note and struggled to went on set went away alongside Raj Kapoor as his unfulfilled dream.
---