Meanwhile Diljit Dosanjh's performance at Coachella was creating quite a buzz as he became the first Punjabi singer to perform at the international event, his second gig made headlines for all the wrong reasons.
Actually, a video from the event has been going viral on social media where during his performance, he can be heard saying in Punjabi, "eh mere Punjabi bhain bhraawan layi, mere desh da jhanda laike khadi aa kudi, eh mere desh layi, negativity ton bacho, music saareyan da saanjha" Also Read : Virat Kohli-Anushka Sharma's Video Dancing To This Punjabi Track Is Enough To Make Your Day!
This statement of Diljit was misunderstood by many who started trolling and slamming him. A netizen wrote, "So as a musician, did he enter USA without Indian passport and US visa?" while another wrote, "We people should stop wasting money to watch his show ...it's as simple as that."
Soon after the video reached to 'GOAT' singer, he took to his social media handle hitting out at trolls and wrote, "DON'T SPREAD FAKE NEWS & NEGATIVITY Mai Kiha Eh Mere Desh Da Jhanda Hai Eh Mere Desh Lai... Means MERI Eh Performance Mere desh Lai Je Punjabi Nhi Aundi Tan Google Kar leya Karo Yaar...Kion ke Coachella Ek Big Musical Festival Aa Othey Har desh to log aunde ne... that's why Music Sab Da Sanjha Hai. SAHI GAL NU PUTHI KIVE GHUMAUNA KOI TUADEY WARGEYA TON SIKHEY ENU V GOOGLE KAR LEYO." Also Read : After Karan Aujla, Sharry Maan Issues Clarification On The Viral Video With Anmol Bishnoi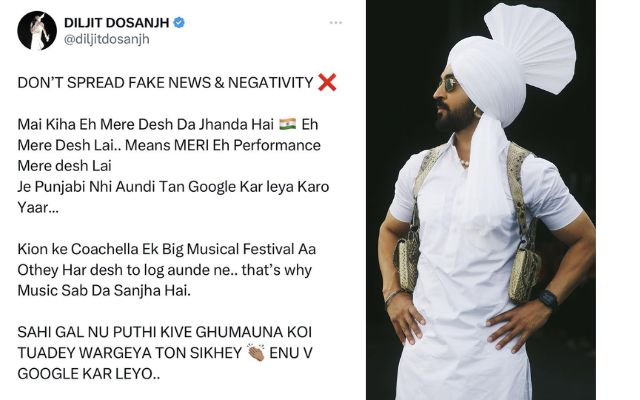 Not only this several extended their support towards the singer and expressed their pride in seeing the singer perform at the international platform.
---