Just a few days back we had shared some exclusive trivia about the superhit, 'Saidan Jogan', the film which was made under the banner of Sunrise Enterprises. After Saidan Jogan's success their next film was Rano (1982).
So, lets dive into the making of this superhit Punjabi film!
The film had Veerendra, Satish Kaul, Bhawna Bhatt, Shobhni Singh, Mehar Mittal, Sudha Chopra, Mohd Sadiq, Ranjit Kaur, Kanchan Mattu, Yash Sharma, Ved Goswami, Kamla Bhag Singh, Labh Chatamilwala, Saroop Parinda and RS Rangila in the lead roles along with the guest appearance of Yogesh Chhabra.
Since BS Shaad was busy with his Hindi film work, the project went to Satish Bhakri (Director) who brought his regular film pair Satish Kaul and Bhawna Bhatt on board. Also Read : From Borrowing Money For Filmmaking To Creating History At Oscars- Guneet Monga's Inspiring Journey!
"Shooting for Rano was fun. We were all just like big family", recalls Bhawna Bhatt while working on the film.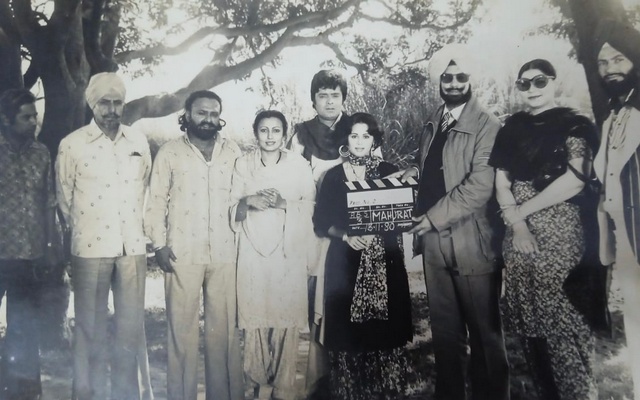 RS Rangila, the man behind producing 'Rano' is currently busy in the pre-production of his forthcoming film, 'Saada Vansh' in Phagwara. Despite having such a busy schedule, he was kind enough to spare some time and talk about 'Rano' with us.
You know most of Punjabi producers would waste money on extra expenses not related to film at all by bringing their friends, would keep partying and wasting money on booze and unnecessary hotel bills. After Saidan Jogan, I asked them to get an office and flat, instead of wasting money on hotel stay and unnecessary meetings. I also told them to avoid bringing chamchas along who were just hanging around with the producers. As a production controller, I made sure to make the film in right budget without any unnecessary expenses. When Rano was to start, I took things in my hand and managed to make a fine product in the controlled budget."
He further adds, it was being shot in Ropar area. We were supposed to shoot a sequence under a peepal (banyan tree). Someone from the village warned us to not shoot scenes near it. Ignoring his warning, we continued with the shoot but camera stopped working in a particular area. It remained non-functional even after couple of attempts. We then changed the location and to our surprise, camera started working at a new location. Everyone had a sigh of relief."
Not only this Tirath Singh Gill, who was working in art setup of the film recalls another unfortunate incident.
"I remember it was one of earliest day of the outdoor shoot in Punjab. Satish Bhakri ji did dhoop agarbatti under a tree. The tree had beehive on it, the smoke from incense sticks disturbed the insects and they attacked the unit. Luckily, all the artists including me escaped from the bee attack but Mr.Satish Bhakri and the cameraman were badly injured. They were immediately taken to a nearby hospital. After two three days, shoot was started all over again."
Written by Babu Singh Maan, Rano was biggest hit of its times.
RS Rangila recalls, the film had record breaking opening. I had seen film running to packed house in Narinder Cinema (Jalandhar) and others in reign. He concluded while remembering good old days of early 80's Punjabi Cinema.
Rano was a two hero-heroine project of musical romantic drama genre. One of the big hit films of Punjabi Cinema, Rano is not remembered in same breath with 'Putt Jattan De' or 'Chann Pardesi' but it was a rage back then with super hit music score.
TRIVIA
1.After 'Saidan Jogan', makers wanted to repeat Daljit Kaur for the titular role.
2.Initially BS Shaad was supposed to direct Rano.
3.Raza Murad was considered for one of the male lead roles.
4.Amar Noorie appeared as background dancer in one of the songs of Rano.
5.Rano was released closed to films like 'Ghazab', 'Farz Aur Kanoon', 'Aadat Se Majboor' etc.
6.Rano was mainly shot in & around Ludhiana, Ropar and Roopnagar.
7.Geeta Bali was doing a Hindi-Punjabi bilingual 'Rano' in mid 60s.
8.Film was being shot in a village called Chatamli and Rupnagar. That's how actor and lyricist Labh Singh Chatamli got a part in the film.
9.Team from Mumbai felt Ranjit Kaur's voice as playback singer for leading ladies is not going to work which was to be dubbed later but her songs were retained as everyone in Punjab appreciated it.
10.Satish Bhakri had given extra prominence to Satish Kaul-Bhawna Bhatt pair, but RS Rangila deleted some unnecessary scenes to keep a balance for both leading pair.
11.The song 'Main Velan Ho Gayi Aa' was only in album and was not included in the film.
12.Its overseas rights were sold for two lacs, while film was made in the budget of approximately eight lacs.
---