A few days back popular Punjabi actor Aman Dhaliwal was attacked in America. The video of the attack had also gone viral on the internet.
Now, recently, the actor has opened up on the attack for the first time while speaking to a leading daily. The actor revealed that he was stabbed in a gym in Los Angeles by a 30-year-old, Ronald Chand from Santa Ana. The actor is currently stable and recovering, however, has incurred multiple injuries. Calling himself 'possibly a victim of a Punjabi hate crime' he recalled that the attacker yelled 'Jai Mata Di' after the attack. Also Read : Kabir Bedi Visits Golden Temple With Wifey, Calls It "Homage To The Creator"
Furthermore, he stated, "He was weird. I noticed him and decided not to park close to him. I started doing my preparation for my workout in the car. Soon, he broke the rear left side's window. As soon as I came out of the car without my shoes, he hit me with the axe. I asked him why are you attacking me. Before I could understand anything, he said something in Hindi: Jai Mata Di. I don't want to make it Hindu versus any kind of it." Dhaliwal recalls.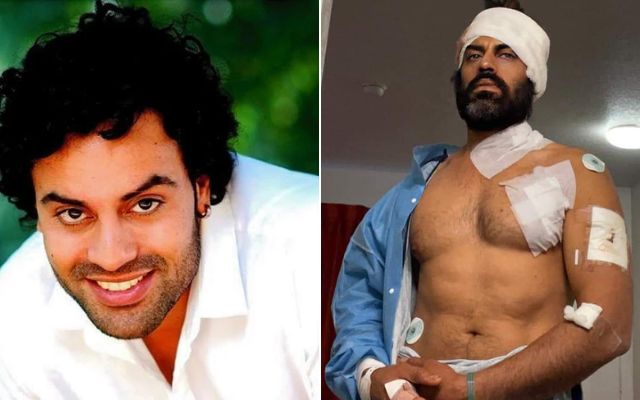 It was then, the actor realised that the attacker is Indian. "My intention was to just stop him from doing this nonsense. Even if he is a psychopath, he is an Indian. If he goes to injure anyone else, the message that will go out is: 'An Indian guy did the massacre and killed many people here'. It would send a negative message for the Indians staying here in the US. The idea of defending my Hindustan's name gave me the courage to fight back," Dhaliwal shares.
"If you notice, there was a chase and fight as he was running to attack others. I took him down and he kept stabbing me on my major organs. He was using me for their political agendas - the hate crime between Punjabi versus Hindus here. I'm not part of that game. He was a psychopath but at the same time he was well trained. He was talking to me in Hindi but when he went inside, he started speaking English. And I have never met that guy," the actor narrates.
It has also been revealed by the actor that Chand is under custody and no one has applied for his bail yet. In fact, he is not cooperating with the police, shared the actor. The videos from the gym were widely circulated showing Aman in his tight grip and later pinning him down on the ground, only then other gym members intervened. Also Read : Street Talk: Remembering Sidhu Moosewala-Out On Spotify
As a matter of fact, Aman had sustained injuries on his hand, neck and torso. He got 13 stitches in his hand, 13 in his neck and a few near his chest. "I believe God saved me, despite so much blood loss, I was able to stand," he says.
He also reveals that Chand is under custody, however, no one from his kin has applied for a bail. "He is not cooperating with the police," he concluded.
---