Popular Pakistani actress Veena Malik has been a part of several Bollywood projects and Indian Television reality shows.
Despite being an actress, she got indulged in many controversies especially after her stint in the controversial reality show, 'Bigg Boss 10'. Right from having her steamy chemistry with co-contestant Ashmit Patel, which started row in Pakistan, to her nude photoshoot on FHM magazine which led her family to disown her. Also Read : Let's Take A Look Back At Controversies Which Surrounded Acting Genius, Om Puri
Well, the list of her controversies is quite long but here we're focusing on a list of Punjabi films she has been a part of. Don't be surprised! In a long career span, the actress has not only worked in Pakistani or Bollywood projects but has appeared in a few Punjabi films also. Also Read : Pakistani Artists Who've Contributed Enough To Punjabi Industry
PUNJABI PROJECTS OF VEENA MALIK
So, the debut film of Veena Malik was Sukhwinder Dhadda's, 'Pind Di Kudi' released in 2005. The film was an Indo-Pak cross venture written by Bashir Niaz.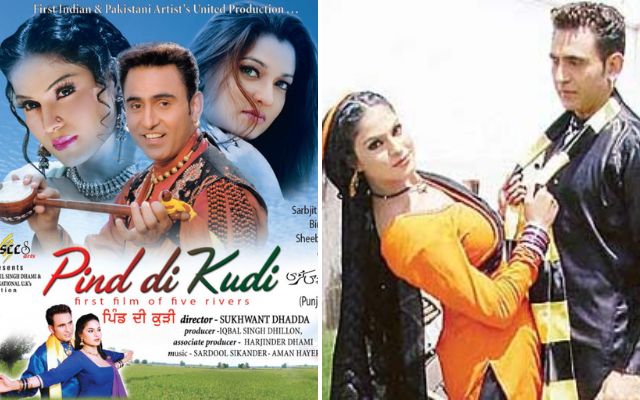 Apart from Veena, the film also had Sarabjit Cheema, Sheeba Bhakri, Gurpreet Ghuggi, Tariq Javed, Ashraf Rahi, Sudesh Lehri, Bhotu Shah and Sheeba Butt. The film was previously titled Bade Chaudhary. Also Read : Roles To Remember: Babbu Bains From Ardab Mutiyaran
Talking about the storyline, the film was about Lalli, a popular college student who lies about his humble background and dates Ruby, the daughter of a rich businessman. However, Ruby's father gets suspicious about his intentions and tests him.
Veena returned to the industry after a long absence with a special appearance in an item song in Kshitij Chaudhary's 'Jatt In Golmaal,' which was released in 2013. 'Shaboo' was the title of the song. Sunidhi Chauhan had lent her voice for the track.
Just in case you don't remember, but once again, a project was announced in 2018 titled, 'Deyo Wadhaiyan Sada Vii Viah Hogya' which was to star Inderjit Nikku, Rai Jujhar, Mangi Mahal, Yuvleen Kaur, Sakshi Maggoo, Rana Jung Bahadur, Sardar Sohi, Gulleh Shah, Sandeep Jit, Bhotu Shah, Kake Shah, Rajesh Vashisht, Sukhdeep Sukhi, ChaCha Chaperan Wala, Ravi Rattan, Parvez Heer and others.
While Jatinder Jatinder (Jatinder S Mehal Kalan) had written it, Harpreet Matharoo was to direct it. Produced by Gaganinder Singh (AG Productions) and Sanjay Matharoo (PK Films) and co-produced by Kingzee Chhachhi, the film was supposed to hit the theatres on 28th September, 2018.
However, there was no update about the film ever since and the film stands shelved now!
Well, just in case, we missed out on any Veena's Punjabi project, feel free to share with us in the comments section.
---