Simar Doraha, a popular Punjabi singer, recently got into a heated argument with a local shop dealer. The entire brawl was captured on CCTV, and the video is now going viral on the internet.
In the video, Simar can be seen visiting the shop where he smoked up and minutes after started to vandalise the shop and abuse the worker. Also Read : Karan Aujla Reacts To His 'Fake' Wedding Rumours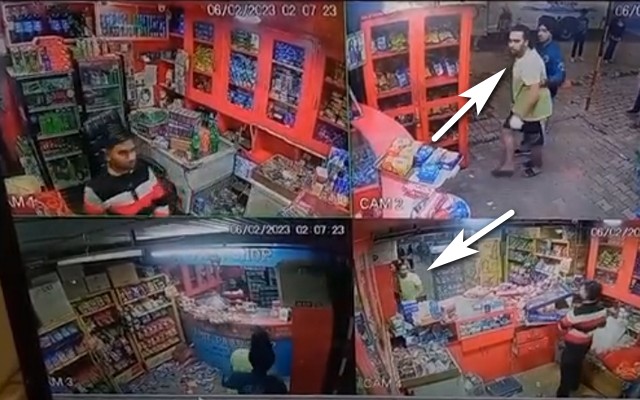 According to reports, the singer purchased some goods and returned nearly half an hour later claiming that all of the products had not been delivered. In response, the worker assured them that he would investigate the CCTV footage after 11 p.m. However, the singer was adamant and insisted on having it checked right away. Also Read : Cute! Ammy Virk Celebrates His Daughter's Third Birthday!
Because the singer was enraged, the worker stated that if they are technologically savvy, they can check it themselves.
They began arguing and vandalising the shop after investing the footage. In fact, the worker claimed that the singer tried to thrash him but was saved by his friends. He has requested an investigation and police protection.
SHO, on the other hand, revealed that they are aware of the situation and that action will be taken following the formal complaint.
It is worth noting, however, that the singer, on the other hand, shared a cryptic post this morning dedicated his ex-girlfriend. The post was accompanied by a lengthy caption in which he stated that if she had not left him, he would have led a simple life. He would not have achieved fame, and no one would have mocked him as a 'nashedi'. "Tu na janda zindagi cho tan sab normal hona si main jihde nal marji larhda jihde nal marji gal karda jo marji karda kade news nahi si banni tu dekh lai tere toh tuttke main kina chamkya tara banke chal chad sara kuj kade msg karli block list cho kadke tera hal chal puchan nu dil kardae te awaj sunan nu hor kuj ni meri canteen ali chahe", he was quoted.
As soon as he shared the post, netizens started questioning him about the brawl and asked him to apologise. A netizen wrote, "Valentine ta thik a bai jo krea maffi mng k gal solve krr baba kyaa rkhea hun ta syanne bno" while another wrote, "Full saroor ch si dukan Wale da nuksan nhi si Krna chahida" Also Read : Kali Jotta Movie Review: Whatta Disaster!
What do you think of Simar's behaviour, share your views with us in the comments section!
---