Recently, a shocking news of emergency landing was reported as Delhi-Jabalpur SpiceJet aircraft 's cabin crew noticed smoke inside the plane when the aircraft was flying at a height of 5,000 ft. Several photographs and videos went viral on social media which showed passengers fanning themselves with newspapers and airline booklets as the smoke entered the cabin.
Amongst these passengers was present the trio of Punjabi singer, Ali Brothers. As per sources, the three were travelling to Jabalpur for their musical show.
A series of videos were shared on their official social media handle. In one of the stories shared, disappointment over the services rendered by the SpiceJet has been expressed. The glimpses from Delhi-airport were shared along with the caption, "Allahpak Lakh shukar hai @spicejetairlines very bad experience". In the video, of course, general public is quite shocked, panicked and confused at the same time. Also Read : Lifetime Box Office Collection Of Galwakdi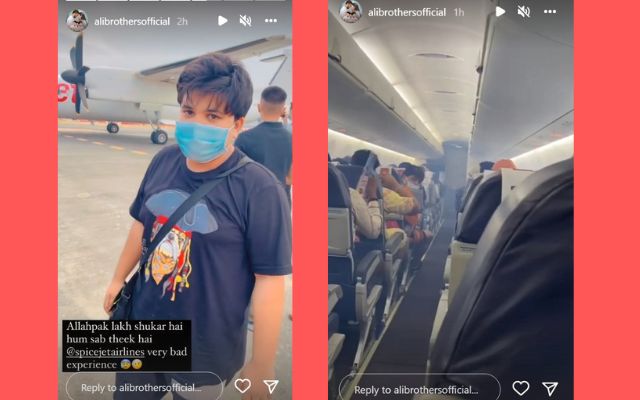 For the unversed, Ali Brothers are known for their soulful sufi singing. Their well recognised works include 'Samaan', 'Maula Mere' and several others. Also Read : Padma Shri Kaur Singh Trailer Review: This One Is Not A Biopic!
Well, thank God! By god's grace all the passengers were evacuated safely and an unfortunate incident was escaped.
Let us tell you, the aircraft, which had taken off at 6.29 a.m., landed safely at Delhi around 7:20 a.m. and passengers were evacuated on a taxiway in coordination with the ATC.
---