Legendary actor Amitabh Bachchan has been in the industry for more than a five decades and has done tremendous amount of work. These works have inspired many and continue to do so. Well, the iconic actor is mostly recognised for his contribution in Hindi cinema but how can we forget his works in regional film industry including Malayalam and Punjabi.
Yes, you read it right!
The rightly called 'superstar' Amitabh Bachchan had done a Punjabi film and that too at the peak of his career. The film was titled, 'Walayati Babu', produced by Punjabi comic legend Mehar Mittal. Also Read : Jatt te Zameen - A Cult Classic That Has Gained Popularity With Punjabi Youth Globally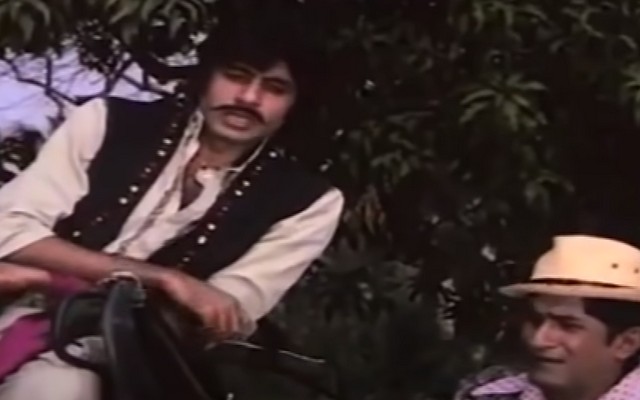 Released in 1981, the film starred Mittal in the titular role opposite actress Rita Haksar (daughter of yesteryear actress Manorama) while Amitabh Bachchan was in a cameo only. This film had also starred Reena Roy in it. Even though Reena and Amitabh worked together in films like 'Naseeb' and 'Andha Kanoon', it has been observed with keen interest of cine lovers that both the actors were never paired romantically in any Hindi film. Also Read : Jimmy Sheirgill Regrets Losing Role In This Superhit Film
It was this Punjabi film which brought these two as a romantic pair. As a result, Reena too joined the top league of actresses which included Hema Malini, Zeenat Aman and others without being paired opposite Amitabh Bachchan in any Hindi Film. This is seen as no less than achievement for Reena Roy!
Interestingly, there were few films in which both of them were supposed to work as the romantic lead. One such film was 'Muqaddar Ka Sikandar'.
It was when Rekha gave trouble to Prakash Mehra for the dates of 'Muqadaar Ka Sikandar', Prakash Mehra approached Reena Roy for the film, she agreed to do the film and even had meetings with costume designer regarding the film, but Amitabh brought back Rekha into the film and promised Prakash Mehra that Rekha would report for the shoot on time. Also Read : These Sidhu Moosewala Songs Are Beyond Violence, Politics Or Gun Culture!
Apart from this, there were other films like 'Coolie', 'Nastik' , 'Ghulami', 'Dharam Kanta' and many others which were supposed to have both the stars in the lead roles but only 'Walayati Babu' could bring them together.
Back then a magazine had even reported that either Amitabh was afraid of Reena Roy's strong screen presence or he avoided working with Reena due to his rivalry with Shatrughan Sinha. But surprisingly Jaya Bachchan and Reena Roy are known as good friends. In fact, Reena Roy agreed to do Abhishek Bachchan's debut film 'Refugee' because of her friendship with Bachchans, JP Dutta and his wife (former actress) Bindiya Dutta.
Well, coming back to 'Walayati Babu', the film is remembered mainly for the cameo of Amitabh Bachchan and Reena Roy.
Mehar Mittal wanted a big star for the cameo and he was thinking about Dharmendra for the guest appearance. However, actor Yogesh Chhabra was the batchmate of Jaya Bachchan at FTII and he approached Amitabh Bachchan for the film through her. He agreed to do the film. While it's the only Punjabi film of Amitabh Bachchan but Reena Roy had done a Punjabi-Hindi bilingual 'Sat Shri Akal' and 'Gyaniji' prior to Walayati Babu.
---