The 'Qismat' director, Jagdeep Sidhu is back with another film after his recent release 'Lekh', which starred actor Gurnam Bhullar and Tania, got a good response from the fans. This one will be called 'Chabi Wala Bandar'!
Sidhu is an Indian writer-director known for his emotional-romantic-drama films like 'Qismat', 'Qismat 2', 'Sufna', 'Surkhi Bindi', 'Lekh' and 'Shadaa' along with many others. Also Read: Karan Kundrra To Remake His 2012 Film 'Pure Punjabi'?
Recently, Sidhu shared a post on his social media with the poster of his next film, which is named 'Chabi Wala Bandar', which is basically a toy whom most of us might have played with, during our childhoods and just a look at it will be enough to bring back the nostalgia.
Not just this, Sidhu's caption attached to the post read, "Thankyou @gitazbindrakhia inspiring me for this one ... tere oss ek VO da kamal aa .. ni main enni himmat kade ni karda .... this world needs more people like you .. love you .. (soon) start auditions for 7 lead actors .. poster by @guri_pixel #rangarangfilms" Also Read: "Takhatgarh" OTT Series Review
Let us tell you that Jagdeep Sidhu is not just the director but also the writer for this one. Moreover, the production will be handled by Ranga Rang Films, which is owned by Jagdeep Sidhu himself! Well, this news was shared by Ammy Virk who put up a story congratulating the former for this new venture. Also Read: Ammy Virk's Latest Purchase Is A Mercedes!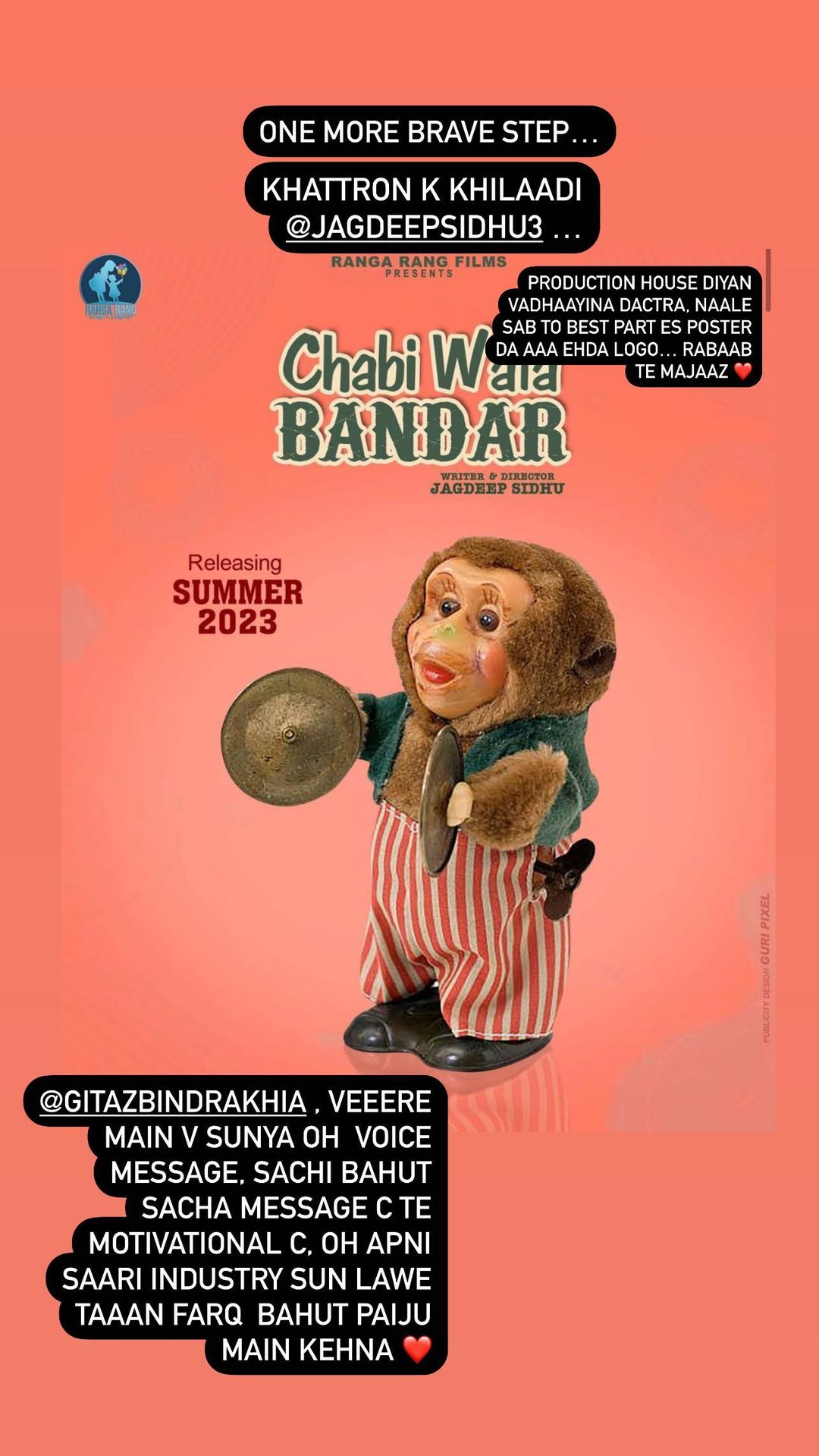 Not much about the cast has been disclosed since, as the caption mentions, they are still looking for fresh faces and actors for this project! Also, the film will release during the summer of 2023. Also Read: When Mika Singh Got Offended On The Sets Of 'Vicky Donor'!
What kind of film do you think this one will be?
---