In the past, most Indian films would have the basic set of characters— Hero-Heroine, Side Hero-Side Heroine, Character Actors, Comedian/s and the Villain. This was because it was a must to have all the parts to complete a film, especially from the commercial viewpoint so that it would appeal to everyone.
Over the years, cinema has surpassed having these character requirements and made a shift to lead protagonists being in focus or a story with no forced subplots. However, Punjabi Cinema still has some films which follow similar character patterns in the script which have been there since its inception.
'Roop Shaukeenan Da', a 1983 release, followed the same rule of having a lead hero-heroine (Satish Kaul, Daljit Kaur), a side hero-heroine (Lehmbar, Rajnibala), supporting character actors (Yash Sharma, Sudha Chopra, Bhag Singh, Kamla Bhag Singh), villains (Gurcharan Pohli, Ved Goswami) and the comedians (Sangeeta Mehta, Mehar Mittal).
So does this film deserve to be remembered or written about if it's yet another replica of the same formula? Well we believe so... Read ahead to know why! Also Read : Do You Know About Dr. Narinder Singh Kapany, The Man Who Bent Light!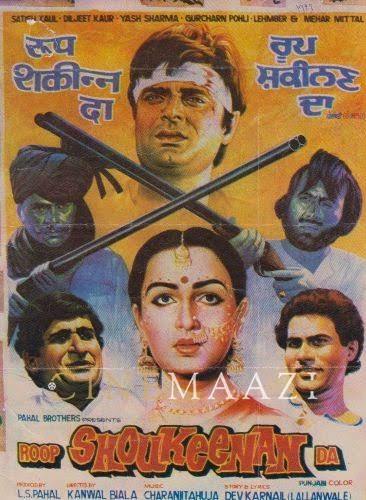 The story behind how this film was conceived is quite unique. NRI Pahal brothers wanted to get in to the film business. The younger brother Lehmbar Pahal wanted to become an actor and had desire to act as a Hero opposite Daljit Kaur. So they got in touch with Kanwal Biala (Film Director). The story was written by the lyricist Dev Karnail Lallanwale. Later, it was found out that Lehmbar is too raw and inexperienced to be cast in a main lead. So Satish Kaul was signed opposite Daljit Kaur, while a Gujarati Actress Rajni Bala was paired opposite Lehmbar. Also Read : 'Bai Chali Sasariye', The Rajasthani Film Which Inspired Many Remakes
Prior to 'Roop Shaukeenan Da', Daljit Kaur was doing another film (Sohni Mahiwal) of director Kanwal Biala (also producer of that film) which was in making for quite a long time. When he approached her for 'Roop Shaukeenan Da', She shared her doubts with NRI producer brothers. But to her surprise, the film was wrapped in two schedules. While the long stuck 'Sohni Mahiwal' saw progression on work front. As usual the wrong practices by fooling producers have always been there in Punjabi Film Industry. The director was said to be spending funds of 'Roop Shaukeenan Da' on his own delayed production 'Sohni Mahiwal' and was shooting for both the film side by side (jointly directed by Shashi Pal). Also Read : Did You Know About Simi Garewal's Only Punjabi Film!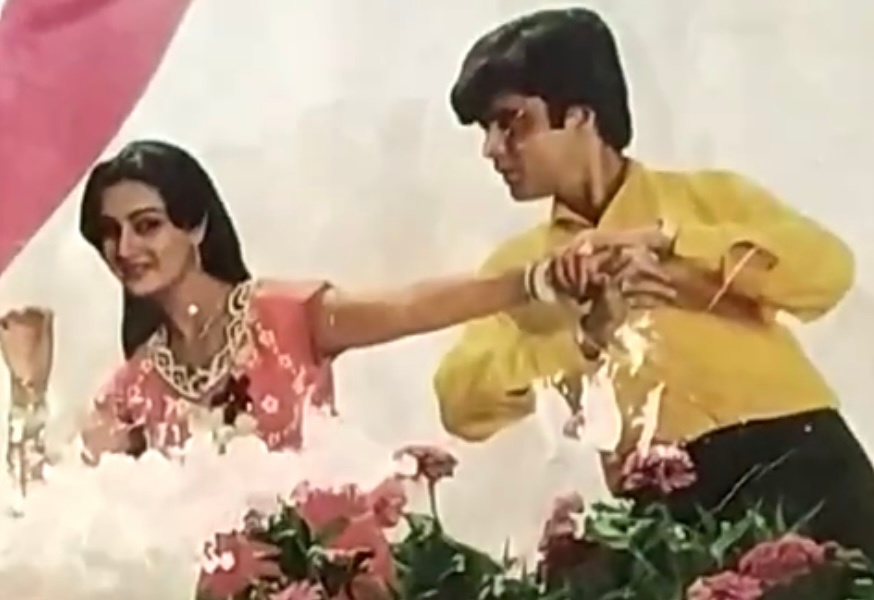 Talking about the actors of the film, while we have our own Punjabi actors nowadays, back then most of the actors would come from Bombay. Harminder Singh, who assisted on 'Roop Shaukeenan Da' recalls, "At times the team would arrange their stays in some village house or at any guest house or hotels. Daljit Kaur had her parental Haveli and another house in Ludhiana and she was not much demanding. Also Read : Remember 'Dil Apna Punjabi' Actress Gauri Singh? Here's What She Is Doing These Days!
Artists were provided cars with drivers. While it's believed Punjabi Cinema lacked professionalism or any planning back then, in spite of budget constraints artists and the team was well taken care of. It was my duty to pick the artists and take them to locations. Mr Bhag Singh was to take part in morning schedule of the film. I went to Chandigarh early in the morning to get him on the sets."
About the locations of the film and the local crowd, Singh added, that he would have to request the public with folded hands to not interrupt the film shooting. While they were most welcomed to see it and they would oblige. But once an incident did occur, which was that while the shooting was going on, Actress Rajnibala was hit by a stone. Someone from the crowd had thrown it, but she continued with the shoot even after the unpleasant incident. Also Read : Check Out Neetu Singh's New Curvalicious Avatar!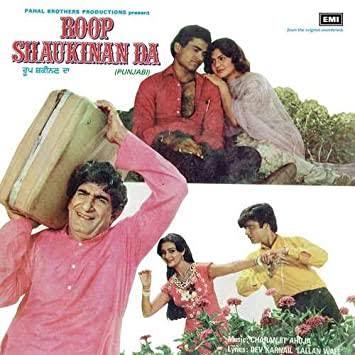 Balbir Singh Begumpuri, who also shared his memories from the film with the GhaintPunjab team said, "Rajnibala was an experienced actress and she was working opposite a novice like Lehmber. She helped him with his scenes."
Now if you want to watch the movie, tread with caution because there are spoilers in the synopsis!
As a subject, the film had a routine romance genre with a very bold twist, which had never been attempted in any prior film (keeping the age of characters in mind). The story goes as such— The middle aged man (Father of leading heroine) attempted rape of a middle aged woman, who happened to be the mother of a grown up daughter (second heroine).
The music of the film was popular at the time, some of the songs were composed by Charanjit Ahuja and it is considered one of the rich, film music albums of its time. If we talk about how the film fared, people knew that a film called 'Roop Shaukeenan Da' is releasing. The music was a big hit which helped with the promotions and even though the film did not do exceptionally well, it did enough. Also Read : Times When Kiara Advani Played The Punjabi 'Kudi' Onscreen
One might ask, but what happened to the producer duo, especially the actor, Lehmber Pahal?
Well there is a funny story behind the fate of the Pahal brothers in the industry. We all know that the Punjabi Audience can be unforgiving. Upon seeing Lehmber's acting, few people from the audience hurled abusive words at him. It so happened that Lehmber was sitting among the audience and realized acting is not his cup of tea. Then as they say, the rest is history. Also Read : 'Waris Shah: Ishq Da Waris', The Only Punjabi Film Submission For Oscars!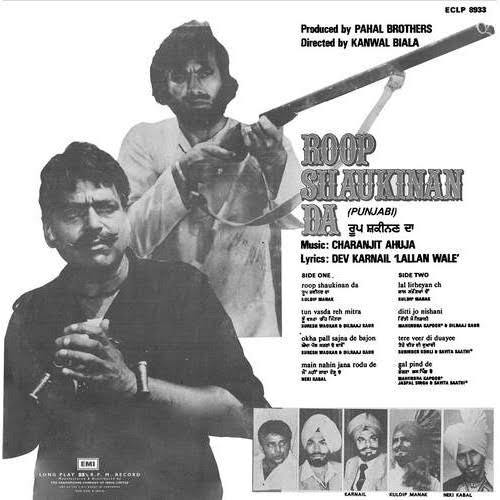 The film, 'Roop Shaukeenan Da' had Daljit Kaur, Satish Kaul, Yash Sharma, Lehmber, Rajnibala, Sudha Chopra, Bhag Singh, Kamla Bhag Singh, Sangeeta Mehta, Madan Lal Rahi, Chaman Lal Shugal, Ved Goswami, Gurcharan Pohli, Kuldeep Manak (special appearance) and Mehar Mittal in leading roles.
Lastly, 'Roop Shaukeenan Da' is one of those Punjabi Films, which was like the flavour of the season at its time. While it remained one of the popular film during the VHS era, the film just vanished later on as it was never released on VCD or DVD and neither was shown on Punjabi TV Channels. Due to it being Kuldeep Manak's song, the title song got a new lease of life in the internet era, so was the case with the film when a VHS print got uploaded on Youtube. Also Read : These Women Centric Punjabi Movies Are A Must Watch
Trivia :
'Roop Shaukeenan Da' clashed with Bollywood films like 'Bade Dilwala', 'Mujhe Insaaf Chahiye', 'Hum Se Hai Zamana', 'Haadsa' and others.
It was mainly shot in and around Mohali, Ludhiana and Jalandhar.
The lyricist Dev Karnail had written the story, he had written the title song keeping Daljit Kaur in mind.
A sad song of the film, 'Sajna Baajhon' was a favorite of Sardool Sikander and Amar Noorie, they did a non commercial home video shoot on the same song during their shows abroad.
While 'Roop Shaukeenan Da' released on the right time, but director's already delayed film 'Sohni Mahiwal' got delayed by another five years.
Information provided by Balbir Singh Begumpuri and Harminder Singh.
---