Punjabi singer, lyricist and actor Shubhdeep Singh Sidhu, better known as Sidhu Moosewala was all set to make his debut on the silver screen this year with his movie 'Moosa Jatt'. However, the movie which was supposed to release on October 1, 2021 worldwide, will not be releasing on the said date in India due to a delay in approvals from the censor board.
'Moosa Jatt', directed by Dilsher Singh and Khushpal Singh and written by Gurinder Dimpy, stars Sidhu Moosewala, Mahabir Bhullar, Sweetaj Brar and Yaad Grewal among others. The film already faced a delay in its release when it was postponed from the date originally being June 1, 2021 to October 1, 2021. But even so close to the release, the cast and crew have not received a reply from the censor board regarding the distribution and exhibition of the film. Hence, there will be a delay in the film being available to the public in India. Also Read: Deepti Tuli And Balraj Syal's 'Bekadra'- An Emotional Piece Of Music!
In response to this, Moosewala had put up a story on Instagram sharing his emotions and struggle in the Punjabi music industry. His reply can be translated as "People had tried to belittle me when I started in the music industry, but I proved them wrong, this is also similar. This is my first movie, not the last and comes what may, I will fight every challenge. My talent has helped me build a name for myself and will continue to prove myself.
The censor board has done this because one we have shown the truth about farmers in the film and two it is my first film. Now we could easily cut that part out but our morals don't allow us! I don't care that the movie won't release in India, it will release worldwide on the 1st of October. Once it releases outside India, we will fight this case in court the rest will be taken care of by God." Also Read: "Murabba"- OTT Series Trailer Review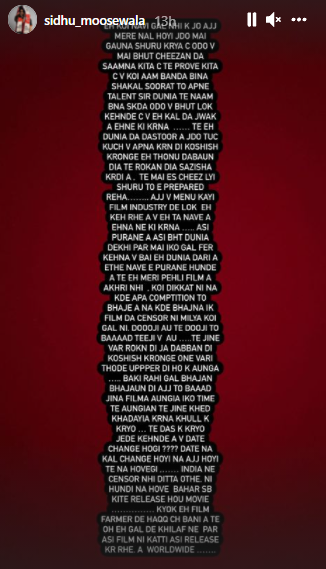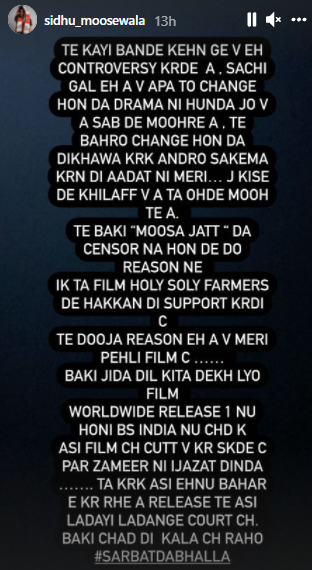 The singer-lyricist was supported by his fellow singers and fans who even re-shared his stories. Also Read: Amidst Navjot Singh Sidhu's Resignation, Here's Why Archana Puran Singh Is Trending On Twitter?
---