Singer, actor and producer Ammy Virk's 'Qismat 2' was released this week. While this one is still in the theatres, he has announced another movie that will be releasing next month!
By doing movies like 'Puaada' (2021), 'Qismat' (2018), 'Muklawa' (2019), 'Laung Laachi' (2018), 'Harjeeta' (2018), 'Bambukat' (2016) and 'Nikka Zaildar' (2016), the actor has gained a pretty huge fan following. Also Read: Agisilaos Demetriades, Arjun Rampal's Girlfriend Gabriella Demetriades's Brother, Arrested After Drugs Found At His House!
Earlier, director Jagdeep Sidhu confirmed a third part for the 'Qismat' series and now Virk has uploaded a status about an untitled new movie releasing in October 2021.
The story he posted said, "Untitled new film releasing next month 29th Oct, 2021, thank you so much for loving Qismat 2. Waheguru Sarbat Da Bhala Karan". Also Read: A Practice That Jagjeet Sandhu Feels Is Still Lacking In The Punjabi Industry!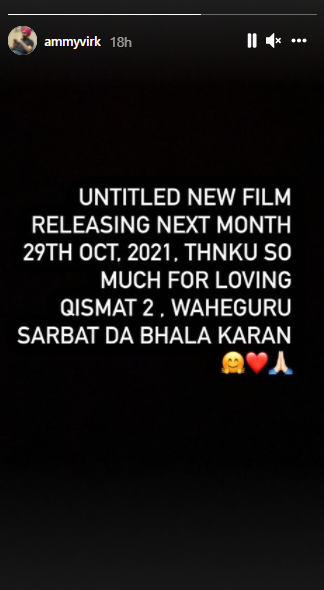 We are eager to know what movie it is. Are you excited too?
---