Indian film director, writer, screenwriter and dialogue writer Jagdeep Sidhu, whose film 'Qismt 2' was released in the theatres yesterday, has taken to his social media and announced the third part of the franchise i.e. Qismat 3!
Sidhu posted a few pictures with the lead actor of 'Qismat', Ammy Virk thanking everyone for the successful release of Qismat 2 and he even said "we need to stay strong for Q3". Also Read: Case Filed Against Ranjit Bawa For Link With Sarpanch Gurdeep Rano!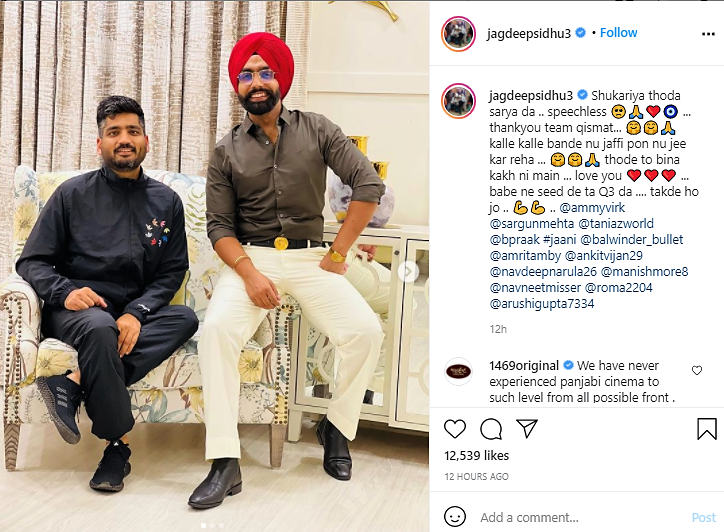 The caption to his post was. "Shukariya thoda sarya da ... speechless... thankyou team qismat... kalle kalle bande nu jaffi pon nu jee kar reha ... thode to bina kakh ni main ... love you ... babe ne seed de ta Q3 da .... takde ho jo... @ammyvirk @sargunmehta @taniazworld @bpraak #jaani @balwinder_bullet @amritamby @ankitvijan29 @navdeepnarula26 @manishmore8 @navneetmisser @roma2204 @arushigupta7334"
He has also tagged the cast and crew of the movies including Sargun Mehta, Jaani, B Praak, Tania, Balwinder, Amrit Amby, Navdeep Narula and others, who will most probably be there for the third part as well. Also Read: When Popular Singer Kaka Went For The Auditions Of Singing Reality Shows!
It is surprising that on the day that Qismat 2 was released, the director has almost announced its sequel. What do you think about this?
---