The famous Iron-man actor Robert Downey Jr. is a New York-born, Hollywood actor.
He began his journey in Hollywood as a child artist at the age of 5. His debut film was director Robert Downey Sr.'s 'Pound' in 1970.
However, after a few successful works like 'Chaplin' (1992), Robert was charged for drug use.
From 1996 to 2001, he was arrested numerous times on charges related to multiple different drugs. For this, Robert had to stay in a court-ordered drug treatment program. Also Read: Home Music Movies Scoop News Review Delhi Court Seeks Medical Reports & ITR Of Yo Yo Honey Singh In Domestic Violence Case!
After five years of substance abuse, arrests, rehab, and relapse, Downey was ready to work toward a full recovery from drugs and return to his career. He was able to get another job after his rehab in 2001 which was lip-syncing in the video for Elton John's single "I Want Love".
His comeback to the big screen was with the 2003 film 'The Singing Detective' (directed by his Back to School co-star Keith Gordon). But his life finally changed after he played 'Tony Stark' in the 2008 marvel movie, 'Iron Man'. Also Read: Ihana Dhillon Has Her Own Business And Here's What She Does!
Needless to say, he never looked back. He became a global sensation as Iron man. But did you know that Robert Downey Jr. wore the traditional Kurta-Pajama in recent years?
In the 2017 'Spiderman: Homecoming' film during a wedding scene, Robert was spotted sporting a kurta-pajama with a Bandhani dupatta draped over it. The director Jon Watts did so in order to add more of a 'desi' factor to the wedding which would appeal to its international audience. Also Read: The Real Life "2 States" Story Of Amrish Puri And His Lady Love!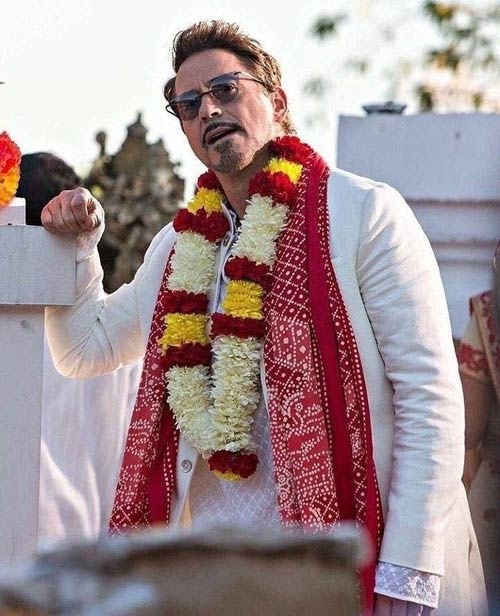 Have you already seen the movie and wedding scene? Comment your favorite Indian getup worn by an international artist.
---