Rakshabandhan,a festival that celebrates the relationship and bond of a brother and sister. A relationship which consists of both love and cute fight. A childhood that consists of a fight over a TV remote to stand up for each other in difficult times is what a brother-sister relationship all about.
Rakhi is one festival that excites sisters more than brothers and why not? One day which get them beautiful gifts from their brother and that too in return for the thread that they tie on their brother's wrist. Nevertheless, the thread carries a lot of importance and holiness for the reason it is being tied. Also Read : Singer Kamal Khan Just Bought A Swanky Brand New 'Fortuner'!
Just in case you missed out, here's how your favourite Pollywood celebs celebrated their brother-sister relationship on Raksha Bandhan!
Singer-actor Yuvraaj Hans shared a supercute photograph of the wrists of his son Hredaan Yuvraaj Hans where the duo have tied Rakhi on their wrist.
Sharry Maan as is known for his witty and humorous posts on social media. 'Yaar Anmulle' singer on the festival also shared his photograph where he can be seen flaunting his 'Rakhi' with a witty caption. Have a look!
Actress Rubina Bajwa has shared a series of her childhood photographs with her brother.
Model-actress Isha Rikhi also shared some really cute and adorable childhood photographs with her brother, Mani Rikhi.
Singer-lyricist Armaan Bedil shared an adorable video that will bring a smile on your face for sure. In the video, Armaan's sister is tying the Rakhi on his wrist meanwhile his niece is also sitting besides them.
Singer Gurnazar Chattha as we all know is very close to his family. On the auspicious occasion of Rakhi, he posted lovely photographs with his mother, sister and niece.
Singer-actor and now a director too, Roshan Prince also posted the photograph of his children. In the photograph, his daughter, Gopika can be seen tying the Rakhi thread on his brother, Gaurik's wrist.
Punjab's one of the most talented artist, Rana Ranbir with his sisters Preet Kamal and Navdeep Kaur.
Actor-Singer Jassie Gill also shared an adorable photograph of her daughter where she can be seen tying probably to her father. Well, that's really great!
Singer Sunanda Sharma was seen celebrating Rakhi with her godfather, Pinky Dhaliwal and his family.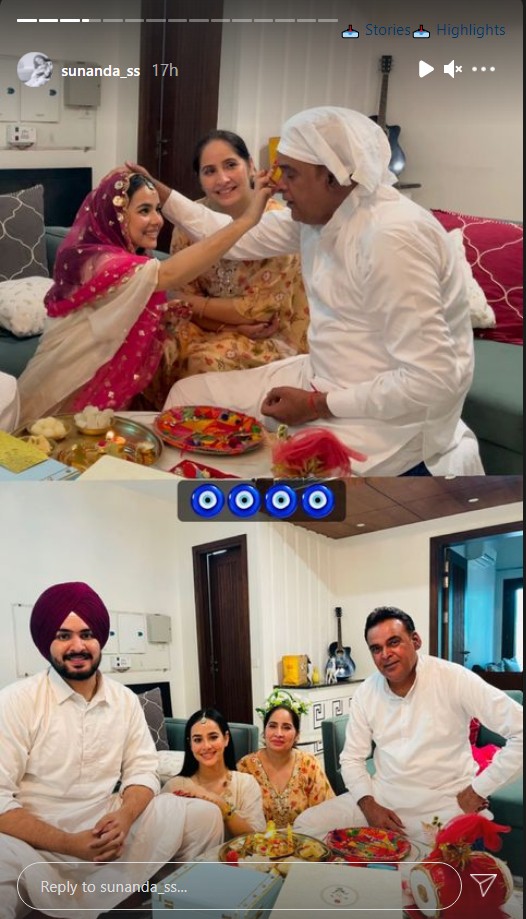 Well, this was how this year Rakshabandhan saw from our Pollywood celebs. How was yours? Don't forget to share with us in the comments section.
---