After the US-Taliban agreement was signed in order to bring peace to Afghanistan on February 29, 2020, the Taliban is moving rapidly to take control over Afghanistan. As the situation is intensifying, a social media appeal by filmmaker Sahraa Karimi which was posted a couple of days back went viral on internet and brought about a storm.
Actually, an appeal letter was posted by Sahraa on her twitter account along with a video of her running through the streets of Kabul on August 14, 2021 i.e. Saturday. The plea mentioned the brutality faced by the Afghan women and children by the Taliban militants. "Everything that I have worked so hard to build as a filmmaker in my country is at risk of falling. If the Taliban take over they will ban all art. I and other filmmakers could be next on their hit list," she wrote.
Later, the video was posted on her Instagram account also on Sunday depicting the condition of city as the Taliban entered the capital. As soon as the video was shared, it went viral and received a lot of support across the globe. Also Read : Simi Chahal Shares Health Update, Reveals She Was Diagnosed With PCOS!
An Iranian journalist named Masih Alinejad shared the video on Twitter and wrote, "This is not a clip from a scary movie, this is the reality in Kabul. Last week the city hosted a film festival & now they are running away for their lives. Heartbreaking to watch but the world is doing nothing".
Bollywood filmmaker Anurag Kashyap too shared on his social media, the caption of which reads, "Share it far and wide". Also Read : Rhea Kapoor Ties A Knot With Her Long Time Beau, Karan Boolani!
Not only this, now our Punjabi industry has also come forward in solidarity to extend their support. Wamiqa Gabbi, Rubina Bajwa, Rohit Jugraj and many more took to their social media to share the plea by Saharaa. Have a look! Also Read : Sad News: Model Jessica Lal's Younger Sister Sabrina Lal Passes Away!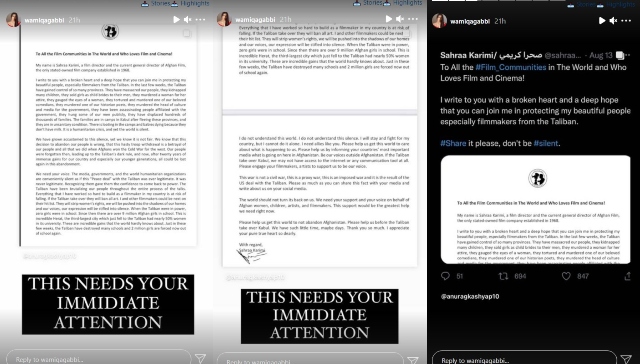 For the unversed, Sahraa Karimi is an Afghan film director and the first female chairperson of the Afghan Film Organisation. She is the first and only woman in Afghanistan who has a PhD in cinema and filmmaking. She is a women's issues advocate and her films "Hava, Maryam, Ayesha" (2019) and "Parlika" (2016) focus on topics like abortion, crimes against women and a woman's right to education.
---