Singer-actor Diljit Dosanjh had announced his album few days back Called Moon Child Era on his Instagram account. As soon as he shared the announced the album, his fans and followers started celebrating and congratulating him for the album. Sharing the update on his social media he had captioned the post, a New Era.. Its a MOON CHILD ERA. BRAND NEW ALBUM. But do you know about the strong connection of his album with BTS' leader RM's Mixtape. For all the details, go ahead reading!
So, In 2018, RM had released his mixtape, which was titled Moon. One of the songs included was called Moonchild. As we all know and Diljit himself has also made amply clear through his posts on Instagram and several interviews that he is a big fan of the popular K-group and infact follows them on social media platforms and praises their performances often. So, this is the reason now fans are speculating if Diljit has got inspired by BTS leader RM's mixtape song and titled his album 'Moonchild'. Also Read : Sunil Grover Shares A Very Special Connection With Jaspal Bhatti- Read To Know The Details!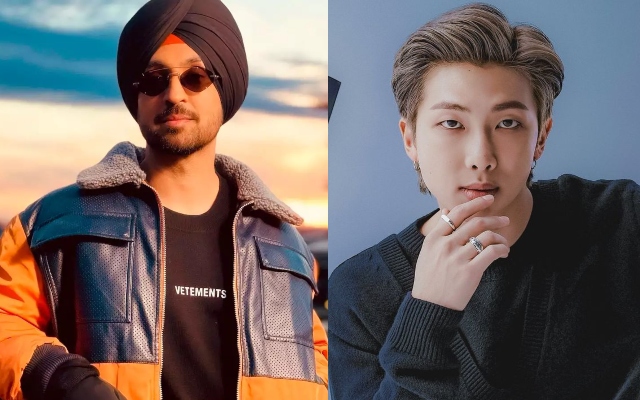 Let us remind you, in April 2020, Diljit had confirmed that he is a BTS fan and enjoys their live concerts while a fan asked him on Twitter why he follows BTS on Instagram. The fan wrote, "@diljitdosanjh M shocked App BTS ko follow karte hen. Can you please tell me which BTS song is your current favourite." Diljit Dosanjh replied to the tweet and wrote, "Live Stage Performance wadia BTS Dian .. Odan Samjh Kush Ni Aunda Mainu.. Live Concerts Da Mai Fan an"(I like BTS' live stage performances. Although, I cannot understand their language, I am a fan of their live concerts). Also Read : Diljit Dosanjh Is A Global Superstar. Here's Why?
Not only this, in 2019, Born to Shine singer had praised the South Korean band for their massive fan following and tagged the official Twitter handle of the band and wrote, "@BTS_twt @bts_bighit They r Lit Insane Fan Following.." He further wrote, "RESPECT Respect entire Team #BTS". A fan replied to Diljit Dosanjh's tweet and wrote, "We purple you @diljitdosanjh @BTS_twt.. India is waiting for them". Also Read : Do You Know Punjabi Film In Which Anita Hassanandani Has Featured In?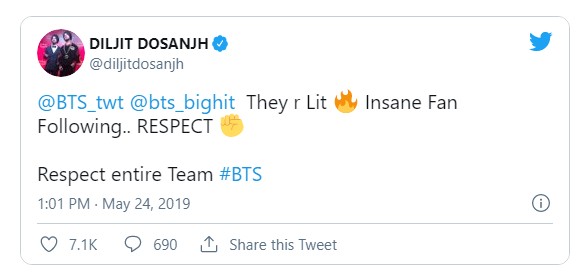 As of now, it is still unclear if the title is inspired from Korean group but we are sure fans couldn't be happier over the crossover!
---