Luckily or unluckily, in Punjabi cinema, kissing scenes are mostly avoided. No matter how intimate the director presents the hero and heroine's relationship onscreen, he would still avoid a lip lock on the big screen.
But if you think that onscreen kisses have never ever ever eveerrrr happened in Punjabi films then here's a myth buster for you. We're sure you've heard about the blockbuster Punjabi film Badla Jatti Da starring Guggu Gill and Upasana Singh, well the film showed them locking lips for a brief moment. (Oh teri, now you wanna go and see it in on Youtube again..lol wait we have the film's link HERE)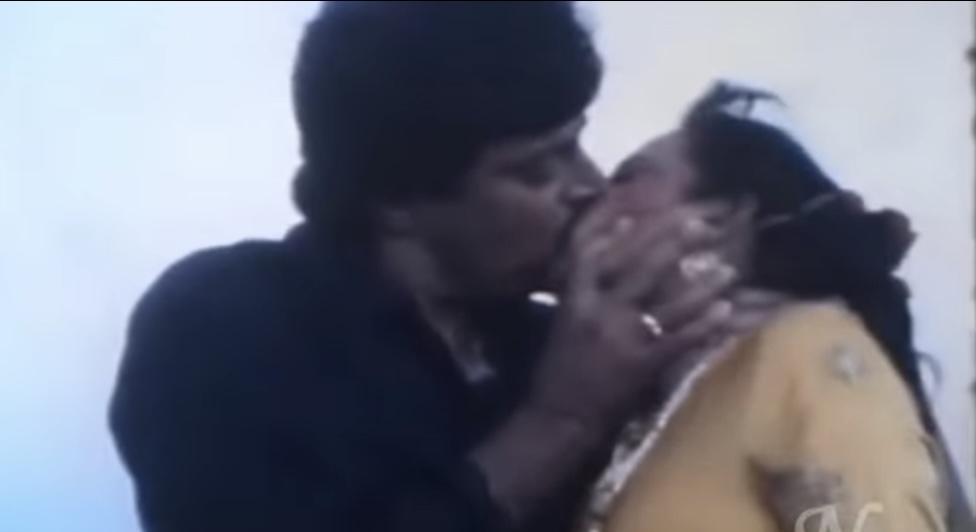 So the man Guggu Gill did it again and this time with Keerti Singh, in the film Lalkara Jatti Da. But this too was a brief moment.
Nope, that's not all, here's another one which also created history for being the longest kissing scene in a Punjabi film ever!
We're talking about a liplock scene between Babbu Maan and Nilofar in the film Rabb Ne Banaiyan Jodian. Besides these three, there was one more kissing scene in a forgettable or as we may say a possible unreleased film titled Aakhiri Saboot.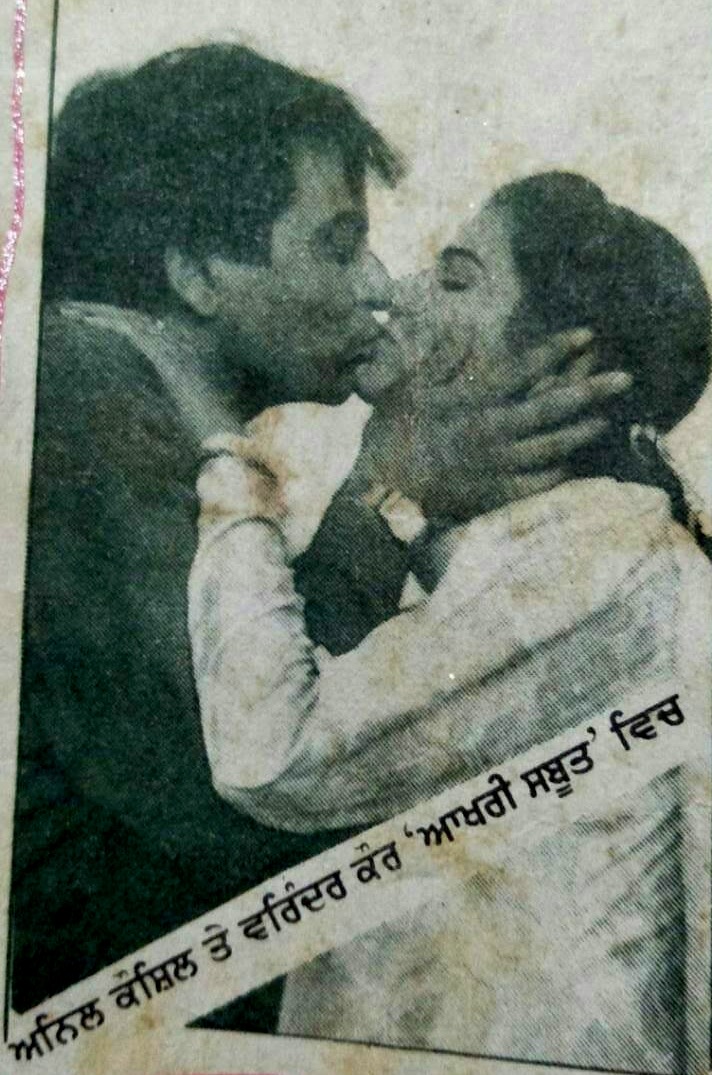 Talking about Hindi cinema, the first kissing scene was in a 30s film Karma between Devika Rani and Himanshu Rai (also a real life couple). But mostly, even the Hindi film makers avoided such scenes. Sharmila Tagore surprised everyone for donning a bikini for magazine cover and had appeared in swimming costume in films. She carried her bold and serious actress image perfectly. In a film titled Talaash, she played two roles, one of a modern girl and the other of a village girl. In the film she had a very short lip to lip scene with Rajendra Kumar. Similarly, in Mera Naam Joker, there was a kissing scene between Raj Kapoor and the Russian actress Kseniya Ryabinkina, which was later edited from the film. Satyam Shivam Sundaram was another mainstream film with a kissing scene that too during the 70s period. By 80s, many mainstream films had kissing scenes.
The 1996 release Raja Hindustani had a steamy kissing scene which got the industry talking besides the fact that it was being promoted a s a family film. With time, even the family audience got used to such scenes in Hindi films. Also Read: Special Interview With Tabaahi Director Harinder Gill - Must Read!
Now, in 2021, practically every Hindi film has a kissing scene (leaving a few) and it doesn't shock or surprise anyone anymore, neither the audience nor the media.
But the question is - Is Punjabi Cinema open to for such scenes?
Ravinder Ravi, the director of Badla Jatti Da talked to Ghaint Punjab and recalled, "I told Upasana that there is going to be a kissing scene with Guggu Gill. She was terrified at first and then I narrated her the scene and asked her if she could find any alternative to the scene. She finally agreed for the lip lock and it was shot in one take."
Badla Jatti Da is most probably the first ever Punjabi film to show kissing scenes. Apart from Guggu and Upasana, Badla Jatti Da had one more kissing scene which was filmed between Palwinder Dhami and Seema Luthra.
Priti Sapru had once said in an interview that she preferred doing Punjabi films just to avoid bold scenes in Hindi films. But if we look back then we do see films where she's had some intimate scenes, bold scenes, and even a bedroom scene with Raj Babbar in the film Aasra Pyar Da. Daljit Kaur too had preferred doing Punjabi films after a point. She had appeared in a bedroom scene with Guggu Gill in Mera Punjab. Gurdas Mann and Rama Vij had done a romantic bedroom scene in Kachehari but today, leave aside onscreen kissing, even such intimate scenes are avoided in Punjabi films. Also Read: Celebrating 30 Years Of The Release Of Cult Classic 'Badla Jatti Da' - Trivia Inside!
Back in the days, Punjabi films had very limited audience that too mostly males. So, a double meaning dialogue, forced intimacy or some titilliation without going overboard was common in some films. Actors and actresses were mainly from Mumbai so they had no inhibitions in doing such scenes.
But today, we have more and more Punjab based actors who are image conscious and are too shy for such scenes.
Diljit Dosanjh, who after ruling in Punjabi industry, has made it big in Hindi films too, has openly said that he does not wish to compromise no matter how glorious the Hindi film world is. 'No kissing or intimate scenes' is a clause specially mentioned in Diljit's film agreements.
Sonam Bajwa might have raised eyeballs for some of her Instagram posts but in an interview, she had mentioned that she would never do kissing scenes on screen, even in Hindi films.
Here, one is reminded of the time when actress Surveen Chawla had posted the trailer of her film Hate Story 2 on her social media handles. She was bombarded with hate messages from her Punjabi fans for doing such a bold role. The concern clearly showed that Punjabi fans are very emotional about such things when it comes to their favourite stars. But also, another point here is that some scenes by popular faces also faded off smoothly without creating any buzz, for example a kissing scene between the ex-couple Neeru Bajwa and Amit Sadh in Phoonk 2 or the Babbu Mann and Nilofar scene in Rabb Ne Banaiyan Jodian.
A part of the Hindi film audience has moved to Punjabi films just because they could not relate to the bold themes and bold scenes of Hindi films. But chances are that if they are served with similar scenes in Punjabi films, they would cut themselves out even from Punjabi cinema.
At times, some such scenes are script bound, for instance, in the film Channa Mereya, the young couple is caught in act in the car, which is why they were shown kissing. But actually there was no kiss in the film, the scene was shot only in such a way that the couple appeared to be lip locking. The reason was Punjabi audience and nothing else because the actress has already done such scenes down south. But if a film like Jatt & Juliet or Shadaa is somehow remade in Hindi, then chances are that it will not be made without kissing or lovemaking scenes. Also Read: 15 Years Of Baghi - Special Interview With Director Sukhminder Dhanjal & Some Unheard Trivia!
Though today, even the Punjabi audience has got extreme exposure if content through OTT but still, they'd rather avoid seeing such stuff in their 'ghar diyan filma'..you know what we mean!
What's your take on this topic?
Do let us know in the comments below.
---