90s was a period when successful Punjabi films were very few in number and the gap between two successful Punjabi films was too much. This was the time when Punjabi cinema was going through a drastic decline. During that period Tabaahi's success turned out to be a surprise, both for the industry as well as the trade and that too for many reasons.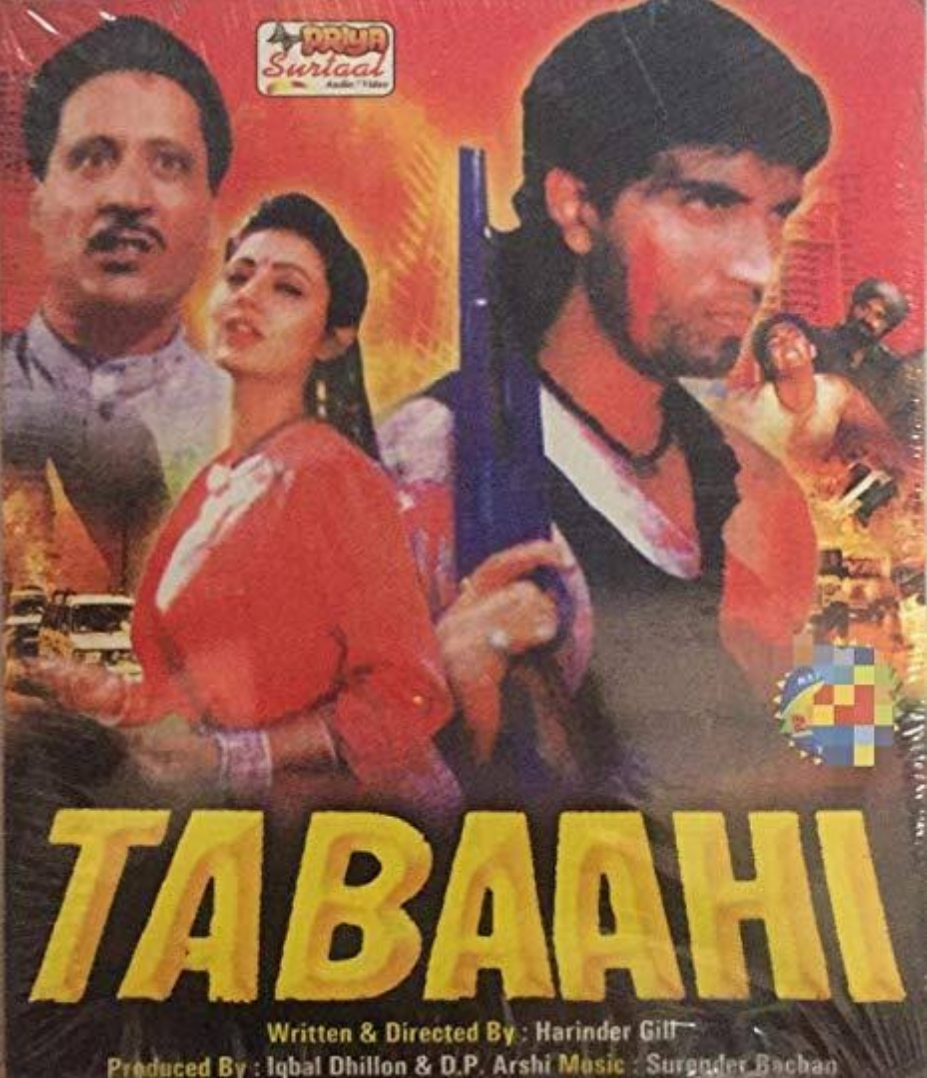 The film had new faces in lead roles and no major attraction. Unlike the trend, the makers chose to keep the title of the film 'Tabaahi' rather then a title with the word 'Jatt' in it. The film marked the directorial debut of Harinder Gill, nephew of veteran film director Late. Jagjit Gill (Chuhar Chak Wala) of Putt Jattan De fame. Harinder grew up assisting his uncle on the sets of his films like Chora Haryane Ka-Gabhroo Punjab Da (Haryanavi-Punjabi bilingual), Patola, Ki Banu Duniya Da, etc.
We talked to Harinder Gill to get an insight into the film Tabaahi, how it was planned and the feeling when it became a grand success. Here's what he had to share:
"My friend Daljit Pal Arshi wanted to produce a film and asked me to direct it since I had prior experience as assistant director in films. But I insisted that he should not enter production and waste his money as he had no prior experience in this field. Taking my advice seriously, Daljit joined the production team of films that I was working on, like the films being made under the banners of Bhushan Madaan and Iqbal Singh Dhillon. After working on the production of two to three films, we finally planned Tabaahi for which, I had written the script."
Casting
"The role required a young main lead. Since Iqbal Dhillon and Bhushan Madaan had already met actress Kirti Singh's brother Vishal Singh, we called him for a meeting and finalised him right away. Ravinder Mann was not keen to do the film due to some reasons but thanks to her mentor BS Shaad, she accepted the offer. By the time the film was ready, Bhagwant Mann became very popular with his comic albums and I must admit, his presence really helped the film. His punches like 'Kulfi Garam' and 'Dupehar Di Roti' became very popular."
Didn't the stakeholders suggest to add the trend 'Jatt' in the title?
"I wanted to make a film without any set format ki eh chalda hai, ya is tarah hunda hai..Imagine the title 'Tabaahi Jatt Di'! In fact, I didn't even use the word Jatt in any of my dialogues. The word could be there in the songs but I did not want to highlight it like every film of that era. Shamsher Sandhu told me that your chachi's film Putt Jattan De started the trend of the Jatt word in Punjabi industry and seems like your film will start a new trend."
It is believed that Tabaahi had to face trouble from the censor board. Is it true?
"Not really, there were a few cuts but overall, the censor board members praised the film. But Punjab government and a section of media did try to create trouble for the film. Today we see heated reporting and media trials and wrong doings in some cases but it was Tabaahi which talked about such yellow reporting by a Hindi newspaper publication.This irked the same publication and they reached out to Deputy Commissioner of Jalandhar to put a ban on Tabaahi. Our film was banned in Jalandhar but they could not stop its release in other districts. Also Read: 15 Years Of Baghi - Special Interview With Director Sukhminder Dhanjal & Some Unheard Trivia!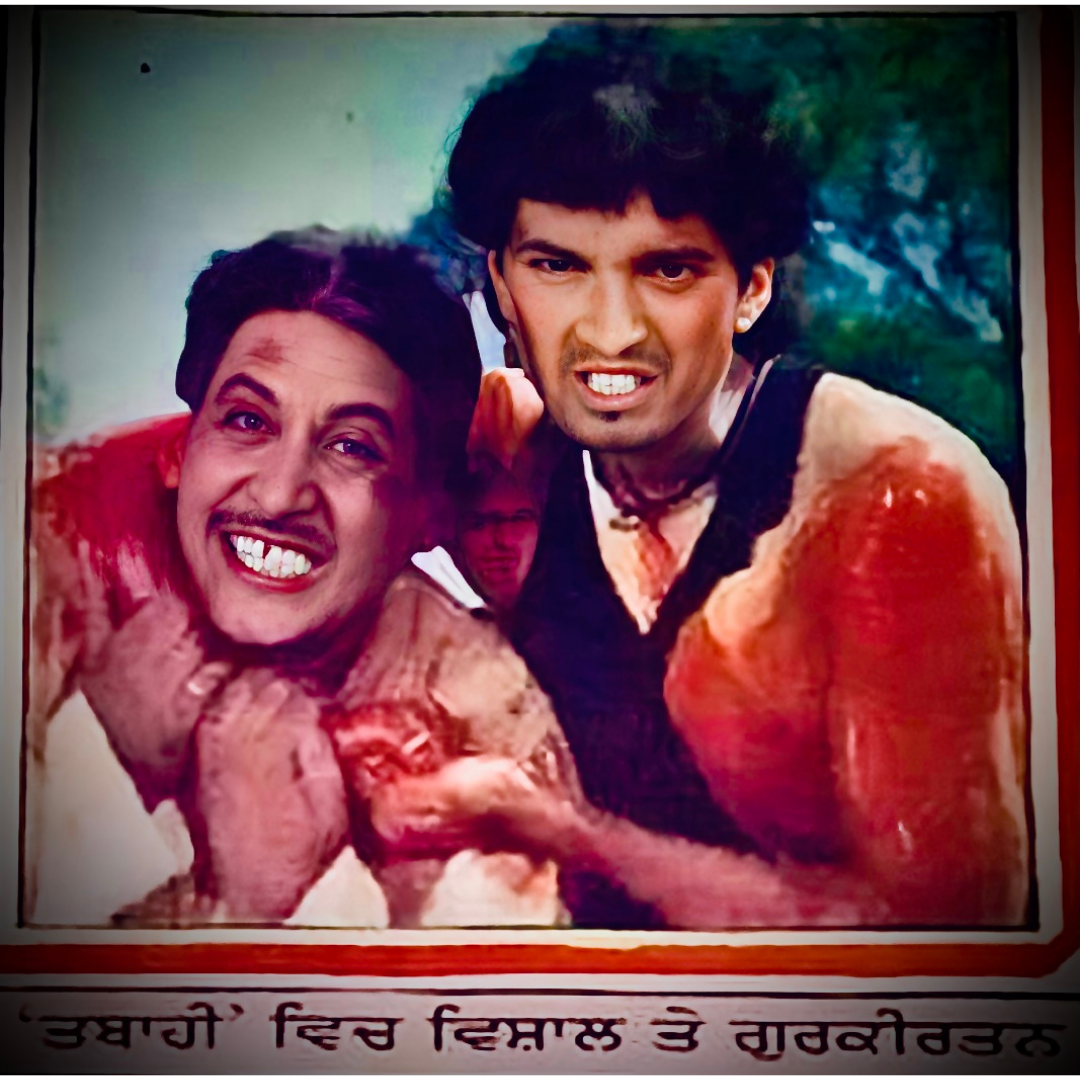 The political character of Gurkirtan was called Balwant Singh and some government officials found it similar to the then CM's name and strongly objected to it. Government asked two of its leaders including Shamsher Singh Dullo to watch the film. Ultimately, the government found it to be a petty issue to be concerned about. But all this negativity and objections helped Tabaahi."
Tabaahi's Box Office Success
"Tabaahi was released on six prints only. I watched the first show in Amritsar, which had a very low footfall. I still remember the audience making fun of Vishal Singh but by the interval, the same set of audience was clapping for him. The first day opening from six centres was nearly sixty five thousand. Its weekend collection was over three and a half lac. Then it ran for a couple of weeks and turned out to be a super hit film. Also Read: These Yesteryear Agreements Show That 'Loudspeaker Must' Was A 'BIG' Clause For Artists!
Besides that, the biggest reward for me was my uncle Jagjeet's compliments. When I had joined other film producers in their films, he got upset with me. But after watching Tabaahi, he praised the film and said 'Tu Mera Asli Shagird Hai'. It meant a lot."
Sometime ago, we had done story on Vishal Singh. In spite of a super successful debut why could Vishal Singh not make it big?
"His Punjabi was weak. Though he acted really well in the film, and we helped him a lot in bringing out a good performance, he was still quite raw. He did get some film offers after Tabaahi and I even remember him requesting me to direct a film which was offered to him by another director because he felt comfortable under my direction."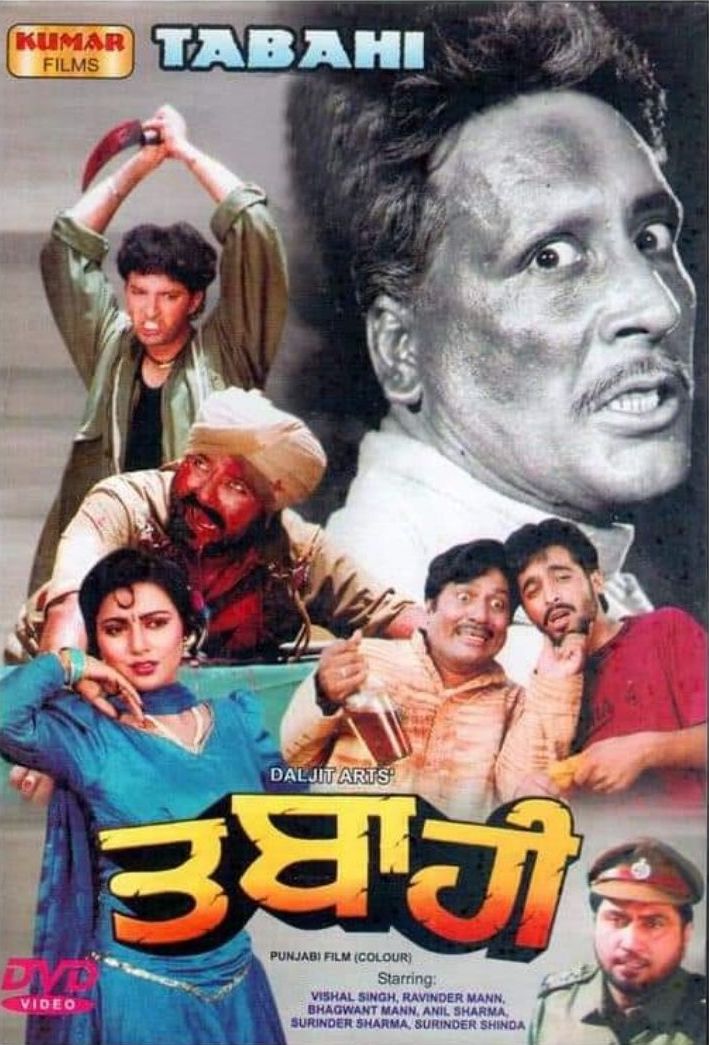 On comparison with Ghayal, Harinder Gill says, "Much before Ghayal, many films were made on the theme of revenge but Ghayal was pretty fresh in the minds of people. For Tabaahi, I was inspired by an English novel."
Harinder Gill cleverly presented the ground situation of Punjab with fictional characters in the period of militancy under the nose of the government. He did not show his protagonist as an extremist but a rebel. It was quite a brave attempt. Tabaahi was also one of the first films to highlight the Kale Kacchewale gang in it.
"I presented the militancy situation of Punjab without mentioning the movement. I wanted to name my lead character after a popular extremist leader but then it would have faced more trouble in the hands of the government. In fact, the sequence of killing the police inspector (antagonist) in broad day light was inspired by a real life incident of the extremist who had actually killed a police officer in the police station, very much like the scene shown in film."
When it comes to the other Punjabi films before Tabaahi, most of them had their own era and some faded out with time but its has been over twenty five years since Tabaahi's release and even today, the film is discussed in Punjabi film groups and in YouTube comments.
"I won't say Tabaahi was a different or superior film but yes it did very well. There were some scenes which I had visualised differently but I had to execute them differently because of limited budget. It is surprising that in spite of all the limitations and less budgets, we managed to make a good and successful film."
While Vishal Singh might not have any plan to make a comeback as an actor but Tabaahi had an open end with a possible sequel plot. But that's only if makers want to take it forward. Also Read: Here's What Father's Day 2021 Saw From Pollywood Celebs!
"The protagonist Sukha had killed high profile people so we could have killed him too, but that would have been a tragic end which we wanted to avoid. Nor could we have shown him walking out freely from the jail. Open ending was the only option to show a happy ending."
Thus, ended our call with Harinder Gill who was speaking to us from Canada.
Tabaahi had Vishal Singh, Ravinder Mann, Bhagwant Mann,Vijay Tandon, Surinder Shinda, Gurkirtan, Surinder Shinda, Samrita Singh, Prabhsharan Kaur, Anil Sharma, Darshan Aulakh, Jassi Flora, Jessy Gill, Meenu and Mohammad Sadiq in lead roles.
Back then, the film was one of the surprise successes of Punjabi Cinema. A newcomer Vishal Singh opposite Ravinder Mann, an actress who had so far appeared in second lead roles in her previous two films, a debutante director Harinder Gill and a debutante producer Daljit Pal Arshi (along with Iqbal Dhillon), Tabaahi with no Jatt word had 'tabahi' written all over it in trade's language but it turned out to be one of biggest hits of the 90s!
Tabaahi Trivia
1. Kuljit Singh was finalised for the lead role but he was more inclined towards his musical career and ultimately became a music director. Though few years later, he also acted in a film titled Zakhmi (1996).
2. Master Saleem, along with Master Khan, appeared in a song in the film.
3. Two songs of Gurdas Mann were used in the film, thanks to Gaurav Trehan of Catrack music company.
4. Ravinder Mann was not keen to do the film but this film made her the star of Punjabi films.
5. Tabaahi released in the presence of Big Hindi films like Darr, Baazigar, Tadipar, Raja Babu, Elaan, and more and still managed to score a hit at the box office.
6. Ajay Devgan and Urmila Matondkar's flop film Kanoon was re-released as Tabahi in the northern belt. It is believed that the makers of the Hindi film did this to get some benefit from the Punjabi film's title.
7. The film was completed in three weeks (only twenty one days).
8. While one of the leading Hindi newspaper publications was against the film, another popular Punjabi newspaper publication of Jalandhar turned out to be of big help to the film for its promotion.
9. Tabaahi was mainly shot in and around Ambala.
10. The makers managed to get Gurdas Mann's song "Balle O Chalaak Sajna" for the film but the lyrics of the song didn't go well with the characters played by Vishal Singh and Ravinder Mann, as both were shown in love while the song talks about disloyalty. Ultimately, a situation was created with Bhagwant Mann, Ravinder Mann and Vishal Singh, only to use the super hit song in the film.
11. Vishal Singh's real name is Punit Chandra Sharma.
12. Tabaahi ran for over 100 days at the box office.
---