With the country's vaccination drive going on full swing there are still some of the people who are a little apprehensive about the vaccination but our celebrities have surely come forrward to get their due jab of vaccination. This is a rather very smart way to spread the message across the general public to motivate them. So, here's a list of artists who have got their dose of vaccination.
Jaswinder Bhalla : Veteran actor Jaswinder Bhalla was one of the artists who got their first dose of vaccination when it was made available for the 45+ age group. He had shared the update on his Instagram account with him getting vaccinated. Infact, he had captioned the photograph in his witty style and wrote, "Appan tn ji nichorh kadh liya k corona tn jmmaa hi gharwali verga, pehlan pehlan tn lgda c k kaabu krr lvange, Par fir baad ch ja k samjh ayee k bhai ehde naal tn adjust hi krna penna... so haar k ajj lvaa liya teeka" (we have reached to the conclusion that Corona is similar to wife...Initially, you presume that you will be able to control but later you realise that you will have to adjust..so finally i have got myself vaccinated today)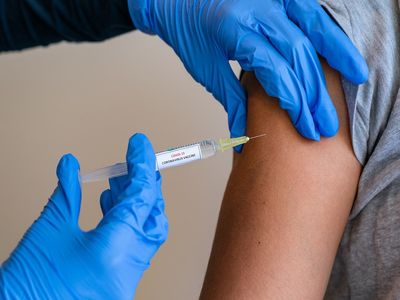 Diljit Dosanjh – Diljit Dosanjh took the first dose of the vaccine two days back. He had even shared the story on his social media handle.
Jimmy Sheirgill : Jimmy Sherigill took the first dose of vaccination on Apr 2 and shared the photographs from the vaccination centre with him getting vaccinated and wrote, "I got it ..pls get yours (with a folded hand emoji) #covidvacccine (with two hugging emoji) I thank all the doctors and frontline workers #cooperhospital.
Gagan Kokri : Gagan Kokri received the first dose of vaccination five days back and in the caption also he urged everyone to get their dose of vaccination. He wrote, "I just got vaccinated and I urge you all to get your vaccination what ever country you are living in after doing your proper research .", read one of the excerpts from his caption.
Simi Chahal : Everybody is aware of Simi Chahal and Sunanda Sharma being good friends. While Sunanda reached the vaccination centre to volunteer and spread the message for the general public, Simi also went their to get their first jab of vaccination. She even shared the update with a video playing the song 'Chal Mera Putt' in the background.

Miss Pooja : Miss Pooja had also posted a picture on Instagram account after receiving the first dose of vaccination on Apr 8. She had also shared the post and wrote, "Aapan te loa leya corona da teeka tusi v lava lao jaldi jaldi. Be safe" (with a thumbs up emoji)
Armaan Bedil – Armaan Bedil also received the first jab of the vaccine on May 7. Motivating others, he also shared the update on his social media handle and wrote, "Don't wait ..vaccinate "
Nirmaan – Lyricist Nirmaan had is also one of the artists to get the vaccination done. He also shared the update on his social media with a video of him being vaccinated and the music 'Vaccinated' plays in the background. He captioned the video, "Vaccinated and it feels good" (with a vaccination emoji)
Well, this is really great! We really hope all of you reading this have also got yourself vaccinated. Because that is the only way we could fight the deadly pandemic!
---