After partition it took a while to Punjabi Cinema to get back on the track. Very few films were being made in Punjabi in 50s, but Bhangra turned out to be a film which was released in late 50s and changed the things for good.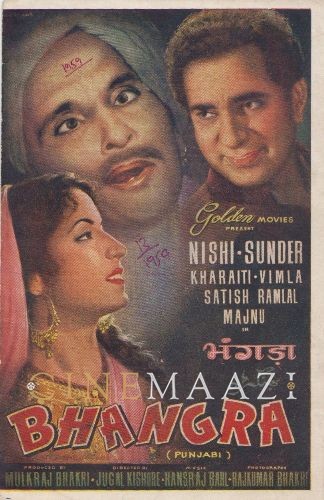 Nishi, Sunder and Gopal Sehgal starring Bhangra was a super success. Its success encouraged more producers from Hindi Films to venture in to Punjabi Cinema.
The film not only gave new lease of life to Actress Nishi as before that she mostly appeared in small Hindi films, but with Bhangra's success she went on to become one of the leading face of Punjabi Cinema. Not only this, infact, Mulk Raj Bhakhri too became a prominent name in the Punjabi films as producer. Later on, his sons too became integral part of the Punjabi Films.
The impact of Bhangra's success was so huge busy star actors like Ashok Kumar and Pradeep Kumar gladly accepted the offer of Punjabi Film Patola, even though both the actors were of the Bengali origin. Patola's title was later changed in to Banto. Also Read : Do You Know Shivendra Mahal Had Replaced Guggu Gill In Jatt Yodhey!
For Bombay Film Producers a Punjabi Film meant less investment with good returns but only few could continue with more films as a small budget Hindi film with nearly same cost as Punjabi Film would get more audience from different territories compared to two-three territories of Punjabi Films.
---