Bollywood actor Kangana Ranaut's Twitter account has been permanently suspended. The step was taken by the Twitter India team after her controversial tweet relating to West Bengal's Chief Minister Mamta Banerjee. In her tweet, she had posted, " This is horrible...we need super gundai to kill gundai..she is like an unleashed monster, to tame her Modi ji please show your viraat roop from early 2000's...#PresidentRuleInBengal."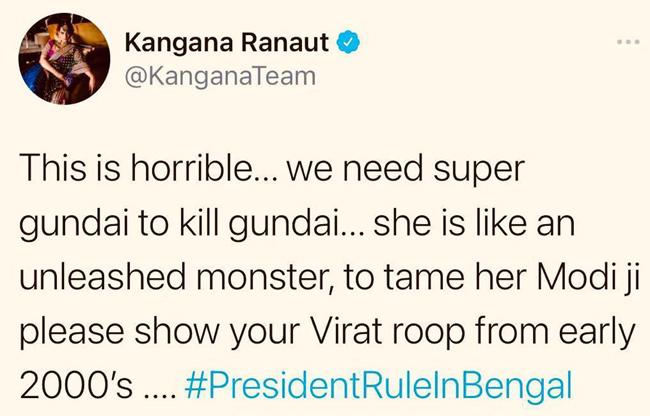 The actress had reacted to a tweet by journalist -politician Swapan Daspgupta on the violence that took place in Bengal following the Assembly Elections results announcement on Sunday.
According to ANI, a Twitter spokesperson speaking on the suspension said, "We have taken action on Tweets that were in violation of the Twitter Rules in line with our range of enforcement options." Also Read: Deep Sidhu Opens Up About The Love Of His Life!
Kangana Ranaut is infamous for her atrocious and no-filter posts on social media. Not only this, infact, she had today posted a video on her Instagram account where in teary eyed she talks about "disturbing news, videos and photos from Bengal of people being murdered, gang-raped and their houses being burnt". However, she hasn't said anything on the suspension of her account. Captioning the video, she wrote, "Distressed, beyond words, death of democracy...important message for our government #BengalBurning #bengalviolence"
Well, Kangana hasn't said anything on the suspension but talking to one of the news portal she has asked to keep the focus on Bengal, her Twitter account doesn't matter. She may not have said anything but netizens seem super happy about the step taken by Twitter India. As soon as the news of the suspension of her account surfaced, netizens made super hilarious memes. Take a look!
---