Whilst the entire nation is battling a pandemic and everyday a surge in cases is increasing panic amongst the public, here's a topic that will make you roll your eyes in disbelief. Not only this, with the shortage of oxygen supply in several states and lack of arrangements to tackle the pandemic a lot of people have shown their anger against the ruling government.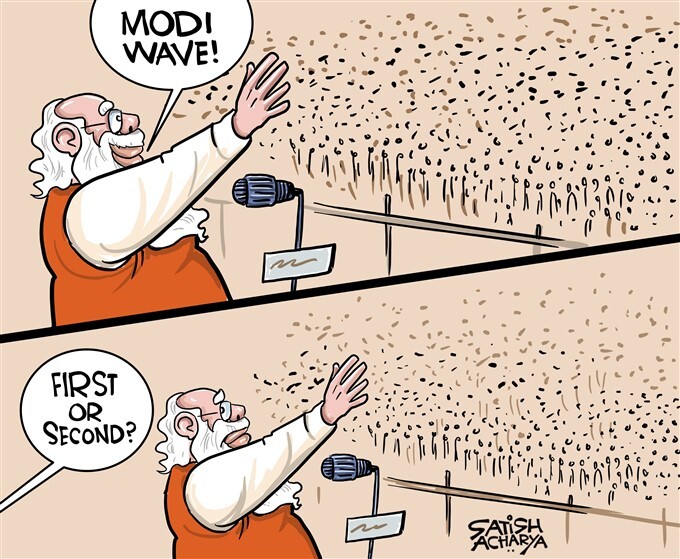 Amongst the disappointed ones was renowned journalist Shekhar Gupta who has challenged the government's incompetency to combat the situation. He took to Twitter and wrote, "As a child of the sixties, I've seen every crisis, incl 3 full wars, food shortages, calamities. This is our biggest post-Partition crisis & never has India seen a Govt missing in action like this. No control rooms to call, nobody accountable to reach. It's a governance rout."
As soon as he tweeted, a new controversy sprung up when veteran actor Anupam Kher defended the existing government and wrote, "aadarniya @shekhargupta ji…ye kuch zyada ho gaya…aapke standard se bhi…corona ek vipada hai…puri duniya ke liye….humne iss mahamari ka saama pehle kabhi nahin kiya…Sarkar ki aalochna zaroori hai…unpe tohmat lagaiye…par isse jhujhna hum sabki bhi zimmedaari hai…vese ghabraiye mat…aayega to modi hi…jai ho"( respected @ShekharGupta ji !! It has become too much. Even more than your standards. Corona is a disaster for the entire world. We have never faced this pandemic before. It is important to criticize the government. You can blame the government. But it is also our responsibility to deal with it. Do not be alarmed. No matter what Modi will come anyways !! jai ho!)
Soon after, netizens started to troll him online via memes and tweets. One of the trolls wrote, "Anupam Kher is the undisputed male version of Kangana Ranaut...Period!!"
Here are some of the memes that were made against the actor.
Not only Shekhar Gupta but many Bollywood celebs including Sonu Sood, Richa Chadha, Vir Das, Swara Bhaskar and Anubhav Sinha, have also come forward to show their disappointment on social media against the collapsing health care system of the nation.
Who's side are you on?
---