We live in a country where we are in the habit of celebrating centuries. But this blog focuses on the century about which we are not happy. Yes, you got it right…it's been more than100 days since the farmers started their fight against the new farm laws but still, their struggle is on. The central government is not yet lending a serious ear to them.
It is an undenying fact that whatever the farmers have confronted in the last 100 days was neither expected by them nor anyone watching over them throughout the globe but this hasn't lowered the confidence or morale of the farmers and their supporters have increased substantially with each passing day. Be it cheap tactics, the arrest of activists, torture of journalists or gimmicks to spoil the reputation of the protest, the Centre has opted all ways but have fallen flat on the face. Also Read: A Write Up About Farmers Protest You Must Read
Remember the heart wrenching torture of the 70-year-old farmer who was hit on his face right near his eye? His photo went viral posing questions not only on the intentions of the enforcers but also on humanitarian grounds. As per reports, he is one of the oldest protestors at the agitation site.
The name of the farmer is Santokh Singh, who had arrived at the Ghazipur site in November from Tarn Taran Sahib. Well, no matter whatever he's been through, even after so much oppression, the 70-year-old is still present at the protest site, waiting with the other protestors for the government to repeal the 'black' laws. Also Read: Central Government To Take Legal Action Against Twitter On Farmers Issues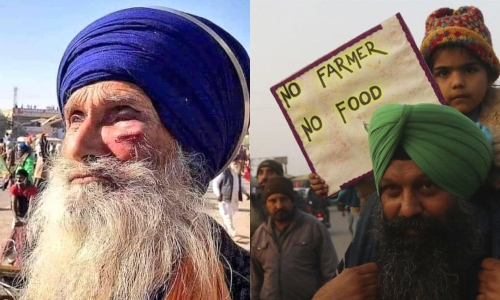 It is believed that the government is apprehending that the protest will eventually die down with time and tired by no response, the farmers will go back to adopt the farm laws but the ground reality is that the farmers are in full mood to prove the government wrong, they even have ac trolleys set up for summers! Also Read: Farmers Now Set Up 'Havelis' At Tikri Border
---