The Protesting farmers at Tikri border have created a 'Haveli' for the protestors and visitors who will be visiting the Tikri border to support the farmers' protest. The idea of setting up this Haveli is to make visitors feel comfortable. Beautiful parks are also being made that serves as a meeting point where the farmers discuss the prevailing situation during the ongoing agitation.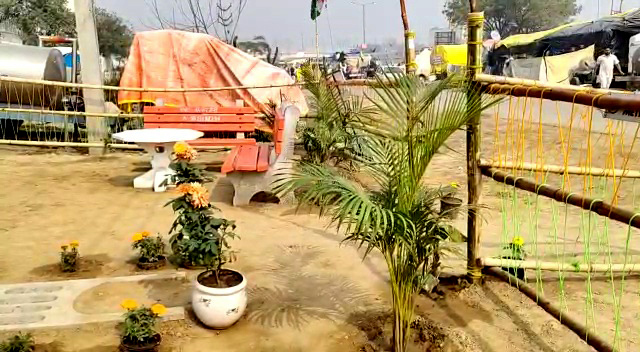 Ever since the new farm laws were introduced by the centre, farmers have been protesting against them and several artists from the Punjabi industry have extended their support through social media or by visiting the protest site. Also Read: Leading By Example: Farmers Set Up Park At Garbage Dump
Famous singer Harf Cheema who is at the Tikri Border from sometime shared a video on the Instagram whereby he has also shared the video of 'Haveli' set up by the farmers and captioned the video as "Kisaan Haveli …Tikri" with a folded hand emoji. In the video, farmers can be seen enthusiastic about setting up of Haveli and beautiful pots & flowers can also be seen planted there. One of the farmers in the video said, "We will arrange a volleyball tournament here as well".
A few days back also, Harf had shared a video addressing the protestors along with Kanwar Grewal from the stage.
---