After allegations of domestic violence, infidelity, and cheating on Dilpreet Dhillon took social media by storm, the singer via a live video has denied the allegations. He lashed out at the Instagram account 'thekaurmovement' asking whether it is a court of law that will serve justice. Also, Aamber's mother and brother, Dhillon claimed, are just doing it for popularity and Instagram followers while also blaming them for "ruining Aamber's married life".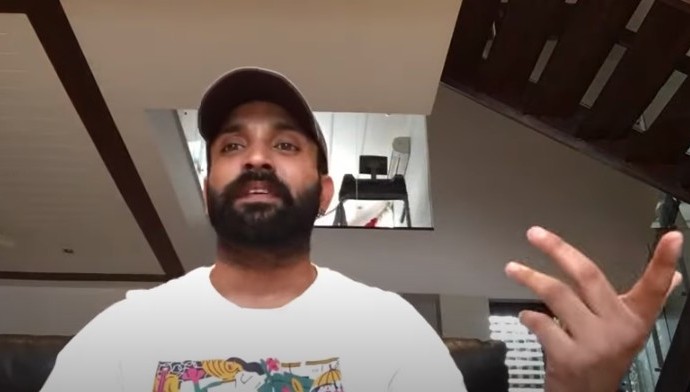 In the live video that premiered earlier today, Dhillon said that the marriage did not happen because of social media and thus it should not highlight the issue. The singer repeatedly asked what he had done wrong and said, "Did I rape someone or murder a person?" He added that he was being projected as the worst person there is.
A visibly perturbed and angry Dhillon said that he had been showing signs of depression for the last few days and was crying and having difficulty getting out of bed. However, he said that his silence shouldn't be mistaken as him being guilty and also added that this would be the first and last time he speaks about the issue.
Dhillon added that nobody deemed it necessary to ask for his version and that Aamber and her family members had blocked him because of which he could not contact them. His own family has been much stressed as well, the singer claimed and asked Aamber to speak to him to save their marriage. It is pertinent to mention here that Aamber, in a phone call to a Chandigarh woman who was having an alleged affair with Dhillon even after her marriage, had mentioned having broken-off her marriage with the singer.
Dhillon said that unlike other singers in the industry, he took his wife along for tours and featured her in his videos as she wanted to. He also added that unlike other singers, he kept his "location on" and never touched any other girl after his wedding to Aamber. The singer also laughed-off the allegations of Aamber and her family being threatened by him saying that how could he do so while being blocked from all mediums.
While some stay silent, others in Punjabi industry take a stand for Aamber
While a majority of the Punjabi industry has chosen to remain silent, stars like Himanshi Khurrana, Wamiqa Gabbi, Anmol Gagan Mann and Amar Sandhu have posted messages on social media in support of Aamber Dhaliwal. Sidhu Moosewala on the other hand posted an Instagram story asking people to not enjoy problems in someone else's life as it could happen to them as well.
In his video, Dhillon urged that his reputation may be asked about from anyone in the industry and that he had never flirted with anyone who he met professionally. While Baani Sandhu had recently said that on the one hand, she supported Aamber, she had always seen Dhillon as a very good person.
While Himanshi Khurrana did not directly mention anyone, her Instagram story read, "Do you really feel like a man when you beat a woman?" She added that those who abuse women do not deserve to be called men. She also urged women who go through any such abuse to speak up.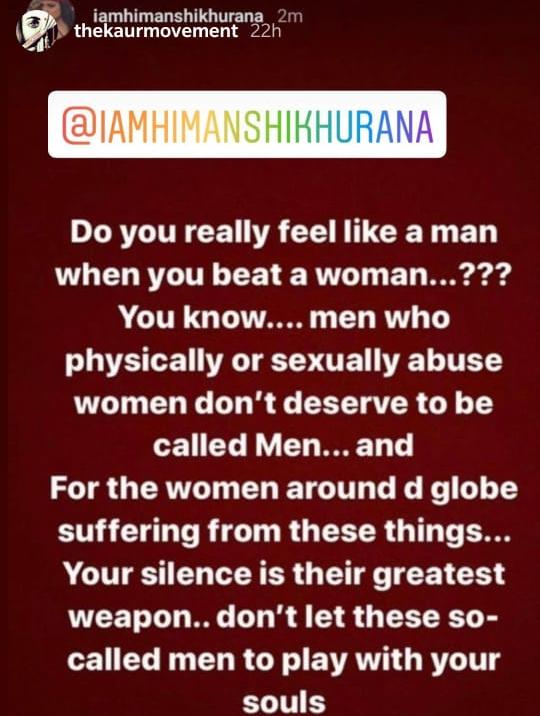 Wamiqa Gabbi, in her story, said that she stands by Amber while adding, "…there are more men like this around all of us". The actor said that while only the law can decide right and wrong, it is important to take a stand and not just dismiss such issues. Anmol Gagan Maan also mentioned Aamber in her story and demanded a change in the society and called for women to ''wake up".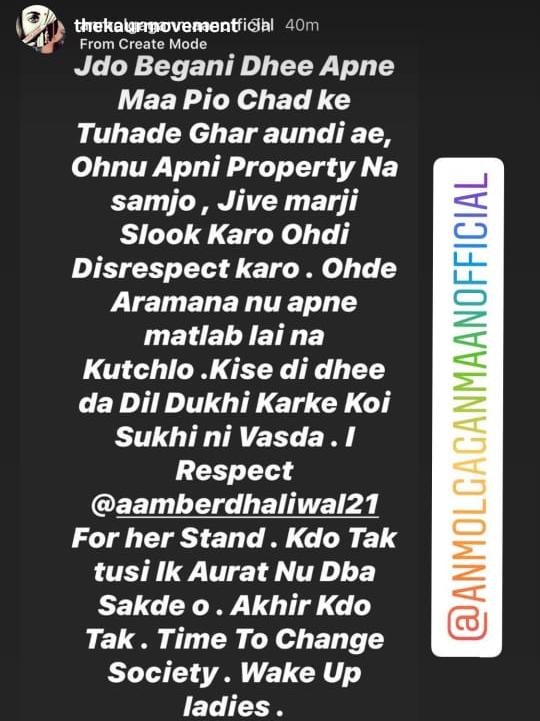 Amar Sandhu is probably the only male in the commercial Punjabi music industry who has spoken on this issue. He dismissed domestic violence being termed as a family's internal matter saying that such people should "stop defending these clowns". Sandhu added that it is not just about the singers but the culture that is worrisome, the families and friends who directly and indirectly encourage such behavior.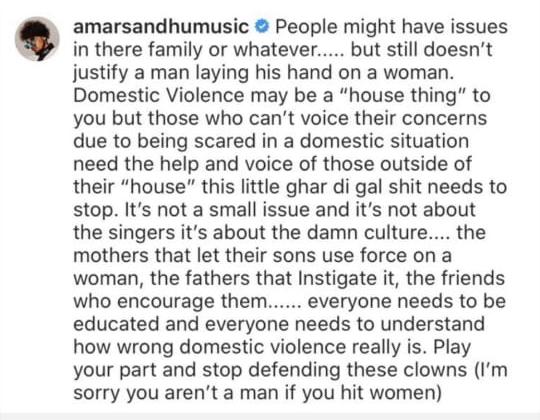 Dilpreet Dhillon LIVE Video Response To Aamber's Allegations
---