Massive controversy has erupted as stand-up comedian Surleen Kaur was witnessed hurting the Hindu faith citing ISKCON (International Society for Krishna Consciousness) during her act called 'Kamasutra Sahi Hai'. Acting upon the controversial act, ISKCON filed a Police complaint against Surleen Kaur. Along with the comedian, the Shemaroo Entertainment Ltd., the production company, which aired the video, has also been named in the Police complaint.
In the video published on different social media channels and the website of Shemaroo entertainment, Surleen Kaur is seen saying "Beshak hum sab ISKCON wale hain, par andar se sab harami porn wale hain…" (Although we are from ISKCON, but inherently we are all porn people)."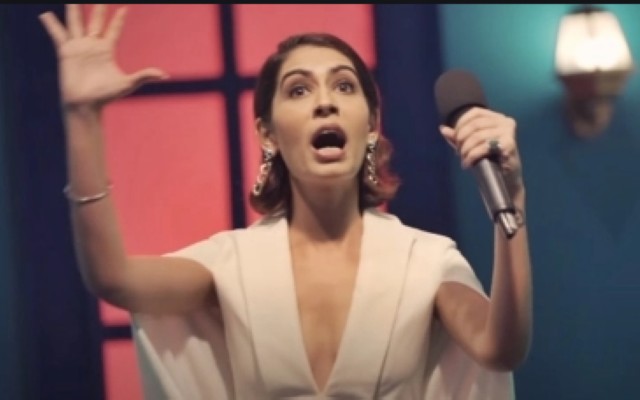 Taking a dig at the mythological legend, Kamasutra, the comedian said, "Dhanya ho humaare rishi muni jinhone thodisi Sanskrit use karke apne bade bade kaand chhupaye hain..." (Hailed are the Indian saints who used knowledge of Sanskrit to hide their sexual acts)."
The comedian's derogatory comment against the ISKCON community and Hinduism has invited major troubles. While the video was published a month ago, only for the last 2-3 days it has been creating the uproar.
Also Read: Is This The End Of Dilpreet Dhillon & Aamber Dhaliwal's Fairytale Love Story?
ISKCON vice president and spokesperson Radharamn Das wrote a letter to the Commissioner of Mumbai Police urging him to register an FIR against the comedian and Shemaroo Entertainment Ltd. He later tweeted a copy of the latter tagging the Mumbai Police Commissioner, Param Bir Singh.
Das tweeted, "Dear Sir @CPMumbaiPolice. Pls find our complaint against Surleen Kaur & @ShemarooEnt for using inappropriate words for ISKCON, for our Rishis, Hindus. This is very unfortunate that there has been narrative building against the followers of Sanatan Dharma on different platforms,"
Shemaroo on the other hand rendered an unconditional apology to the ISKCON community. Subsequently, the company stated in a tweet that it has decided to disassociate itself from any further involvement with Surleen Kaur.
Surleen Kaur is an actress and stand-up comedian. She is best known for her stint in Punjabi web-series Sleepless Nights as the Lead Lady. She also acted in shows like Memories (Webseries by Vikram Bhatt), Comedy High School for Discovery Jeet and Sab TV show Adat se Majboor. She also performed as stand-up comedian in The Kapil Sharma Show.
---