In 1969's National Awards, Nanak Naam Jahaz Hai won n two categories - Best Punjabi Film and Best Music. The film had released prior to the Vaisakhi weekend in the year 1970.
It's been 50 years since the film's release!
Produced by Panna Lal Maheshwari, Nanak Naam Jahaz Hai was directed by Ram Maheshwari. The film had Prithviraj Kapoor, Somdutt, Vimi, Nishi, Veena, Suresh, Jagdish Raj, Tiwari, David & I S Zohar in lead roles. The music was composed by S.Mohinder and the film was written by Bekal Amritsari.
Ram Maheshwari has directed two Hindi classics - Kajal & Neelkamal. Both these films were dramatic yet carried social and moral values with a strong reflection of spiritual beliefs.
The Maheshwari family originally belong to Amritsar and they even have a family clothing business in the city. The spiritual family was regular at visiting Darbar Sahib. Once Bekal Amritsari, who had written a few Punjabi films, told them about a rare miraculous incident which had happened at Darbar Sahib. It inspired them to make a film on it. It was a perfect occasion to start the film as Guru Nanak Dev Ji's 500th birth anniversary was coming up. Though they had planned to make a small budget regional film, the budget increased in no time, besides the fact that the principal cast was working for free or at a much less remuneration.
Financiers and distributers were worried and kept taunting Maheshwari, as to why take such a risk when his Hindi film career is going so well. But it was Panna Lal Maheshwari who kept encouraging Ram Maheshwari.
It must be mentioned that prior to this film no one had attempted to make a film on Sikh characters with the theme of religious faith. (Much before this film, a movie on Maharaja Ranjit Singh got into trouble, so Sikh based subjects were avoided by filmmakers). Maheshwari knew that his film could face trouble with religious wings so prior to the shooting he had submitted his film script to all the concerned religious fellows. It was approved by all.
Coming to music, Ram Maheshwari had met Asha Bhonsle at the recording studio and revealed the plans of his dream project. She told him that she had just recorded a religious album for S.Mohinder. She recommended his name and S.Mohinder was signed as the Music Director for the film. For two of the sequences in the film, S.Mohinder wanted famous Kirtani Ragi Bhai Sumand Singh to lend his voice. These were for two shabads - Mitti Dhund Jagg Chanan Hoya and Kul Taran Guru Nanak Aaya. He was sceptical at first but finally agreed.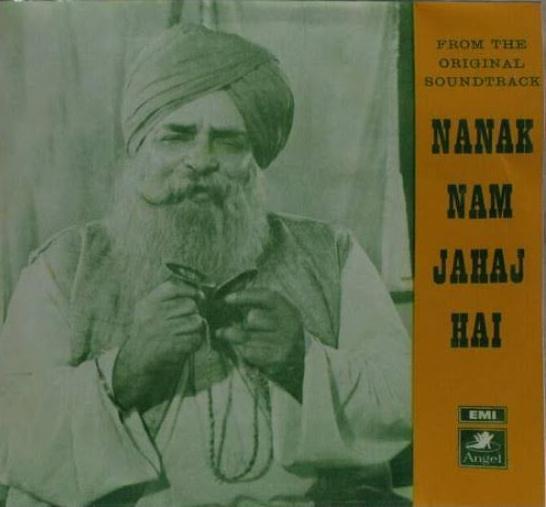 The devotional (also non-devotional) music was released before the film and it did the trick. The music was largely appreciated and what created more curiosity among the cine-goers was the fact that the film won the National Award for Best Film.
Also Read: Not Many Know That Legendary Actor Pran Forayed Into Films With A Punjabi Movie!
Besides that, it was for the first time a Punjabi film was largely being discussed in the Bombay film circle and trade. A classic was born on the day of its release. People would come to watch Nanak Naam Jahaz Hai as if they were visiting some holy place. In most cinemas, the film would start after the Sikh prayer. Cinema halls were regularly cleaned with water after every show. The audience would cover their head while watching the film and would remove their shoes outside the hall. There were long queues outside the ticket windows, at times up to a kilometre long.
Punjabi films were occasionally released in Delhi, UP, Bihar, Rajasthan, Himachal, Haryana, but besides these territories, the film was also released in Maharashtra, Calcutta and a few other new centres.
The film turned out to be a super success which was loved by the Punjabi audience, besides the fact that presented the very basic structure of Sikhism in a misguided way.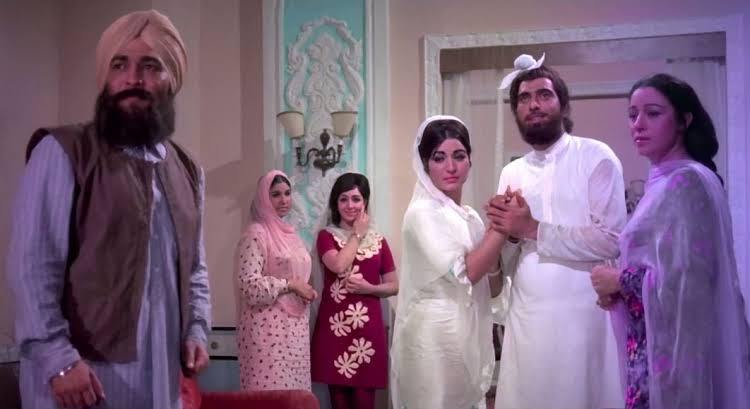 According to the plot, the young leading protagonist (Somdutt) loses his eyesight due to an accident which happens because of his aunt (Nishi). All the medical treatment fails to bring his eyesight back. He decides to visit the major gurudwaras and is accompanied by his fiancée (Vimi). Ultimately, at Darbar Sahib, he gets his vision back.
Sikhism does not believe in any sort of miracles. Some rationalists including Khushwant Singh even questioned the same but Maheshwari's films were always about religious faith and beliefs and this one was reportedly inspired by a true incident.
Nanak Naam Jahaz Hai is one of those rare Punjabi films which brought respectability to Punjabi Cinema and was widely discussed by Non-Punjabi media as well. In the quarantine period, on the occasion of Vaisakhi, it will be a good idea to revisit the 50-year-old classic with your family.
Nanak Naam Jahaz Hai Trivia
1. Nanak Naam Jahaz Hai was the first Eastman coloured Punjabi film. Prior to this, another Punjab film Sassi Punnu was partially in colour.
2. The film celebrated Silver Jubilee and Golden Jubilee at most of the centres. It probably is the only Punjabi film post-independence which had celebrated Golden Jubilee at the box office.
3. It celebrated Golden Jubilee at Deepak Cinema (Ludhiana) & Chitra Talkies (Amritsar).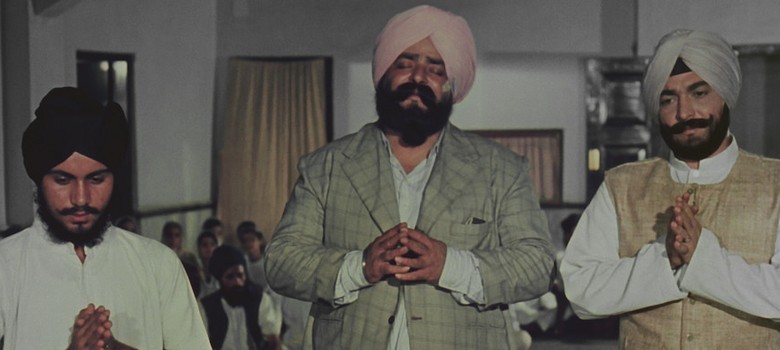 4. Balraj Sahni was approached for a role in Nanak Naam Jahaz Hai bu the actor had to turn it down because of his commitment with Pavitra Paapi, which was more like his family film.
5. Tanuja & Simi Grewal were considered for Vimi's role.
6. Surprisingly, the young lead of the film Somdutt (younger brother of Sunil Dutt) and Vimi had both made their acting debut with hit Hindi films Mann Ka Meet & Humraaz, but none could make it big in Hindi Cinema. Sunil Dutt was associated with the debut films of both these actors.
7. In the film's opening credits, the video of Guru Nanak Dev Ji's 550 birth anniversary celebrations were shown. In the same opening credits, many VIPs such as Abdul Ghaffar Khan (a noted Pakistani leader), Dalai Lama, Atal Bihari Vajpayee, Giani Zail Singh, Lala Jagat Narain, and more, can be seen.
8. The 2008 Punjabi film titled Sat Shri Akal, starring Kimi Verma, Arun Bali, and more, was the unofficial remake of Nanak Naam Jahaz Hai, with similar plotline and characters.
9. Ramesh Talwar, a regular assistant director at Maheshwari Productions and Yashraj Films was the assistant director of Nanak Naam Jahaz Hai. He later directed Popular films like Doosra Aadmi, Basera, Sahibaan, to name a few.
10. Prithviraj Kapoor would interact with his Sikh friends to get into the skin of the character. He was always keen to act in Punjabi films and would thank Ram Maheshwari for offering him this film.
11. Nishi, who had always done leading roles in Punjabi films, was a bit sceptical about the negative role. But it turned out to be one of her memorable roles and it was also one of her last Punjabi films. She later felt it was a perfect role before a final goodbye to her acting career.
12. Upon its re-release in 2015, Nishi participated in the film's promotion and was also seen at the press conferences. Most of the principal actors from the leading cast had passed away much before 2015. Somdutt had died a couple of months before the film's re-release in 2015.
13. Till now many Hindi films have been re-released in cinemas but so far, only Nanak Naam Jahaz Hai is a film from the old era to have been re-released more than once (in the late 70s, 90s, somewhere in 2000 and 2015).
14. It is one of the rare cases of Indian Cinema when a great grandfather and great grand son's films released on the same day. Ranbir Kapoor's Tamasha released alongside the digitalised version of Nanak Naam Jahaz Hai in 2015.
15. Its believed that Ram Maheshwari wanted to cast Dharmendra for a special appearance but the plan somehow got cancelled. Years later, Dharmendra came for the promotion of the film during its re-release.
16. Big Hindi films like Khilona and The Train released around the same time. In fact, The Train suffered in the north belt due to Nanak Naam Jahaz Hai.
17. Nanak Naam Jahaz Hai was made tax free in Punjab, and in some other territories.
18. Actress Veena started her acting journey in the 1940s with Punjabi films. She marked her comeback to Punjabi Cinema with Nanak Naam Jahaz Hai.
Also Read: Ekam-Son Of Soil Completes 10 Years Of Release, Mandeep Benipal Shares Interesting Facts
19. As mentioned earlier, the film won the National Award for Best Film. But so far Nanak Naam Jahaz Hai is the only Punjabi film to have won the National Award for Best Music.
20.Ram Maheshwari had started another Punjabi film somewhere in the mid-1970s but it was shelved. He returned back to Punjabi Cinema after nearly three decades with Sarbans Daani Guru Gobind Singh (1998).
21.A new film with the same title Nanak Naam Jahaz Hai is being made which will have Yuvraj Hans, Aman Dhaliwal, Drishti Grewal, Yuvraj Aulakh, Yamini Malhotra, Vindoo Dara Singh & Ratan Aulakh in lead roles. The film will be helmed by Maan Singh Deep and Kalyani, close friends of Maheshwari family.
---