In 2019, a Punjabi movie, 'Galwakdi' was announced which was to star Tarsem Jassar and Wamiqa Gabbi in the lead roles. Ever since it's announcement, everybody was looking forward to its release date but owing to pandemic situations, the release got delayed. But now the makers have finally locked the date for its release.
So, the movie to be produced under the banner of Vehli Janta Films and Omjee Star Studios will finally hit the screens on December 31, 2021. The movie will be helmed by director Sharan Art. Also Read : FIR Against 'The Kapil Sharma Show' For Showing Actors Drinking In A Courtroom Scene
Wamiqa took to her social media account to share the update. The caption of the official announcement also reads, 'Galwakdi' finally releasing after two years on 31st December, 2021.' Also Read : Director Jagdeep Sidhu Announces Qismat 3!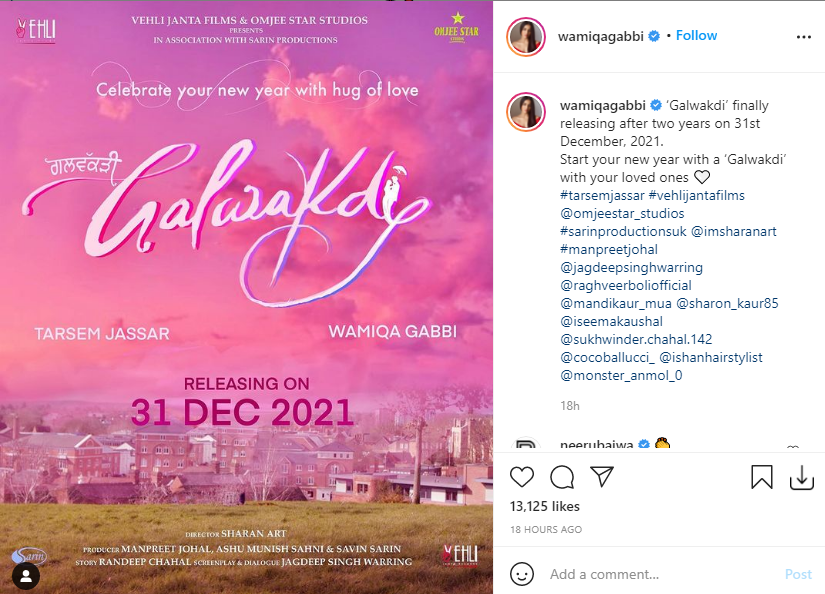 Other than the lead couple we would also see actor B. N Sharma and Raghveer Boli playing important roles in the film. The story of the movie is penned by Jagdeep Jaydee. Before this movie, Sharan has worked with Tarsem in the movie Rabb Da Radio 2, in which we saw a small glimpse of actress Wamiqa Gabbi too. It would be interesting to watch this new pairing onscreen. Also Read: 5 Facts You Should Know About Afsana Khan!
The title of the movie has also been picked up from Tarsem's most loved song Galwakdi. Let's see that if the movie is able to garner an equal amount of love from the audiences.
---