A new Punjabi film Angrej Putt has been announced today during a media interaction in Chandigarh. A debutante named Arsh Chawla will mark his lead acting debut with this film opposite Oshin Brar, which also stars Sumit Gulati, Yograj Singh and other veterans from Punjabi industry. This project is directed by Shivamm Sharma and produced by Mayyank Sharma. Angrej Putt will release under the banner of MS Asian Movies Studio and Rangla Punjab Motion Pictures in association with Moga Film Studios & Punjabi Star live events management Pvt. Ltd.
The producer and Director have both done Bollywood films like Nastik, Match of the life and Punjabi films including Dhol Ratti and Bhagat Singh Di Udeek and have many more upcoming projects too.
Angrej Putt will be on the floor later this year and a major part of it will be shot overseas and some parts in Punjab.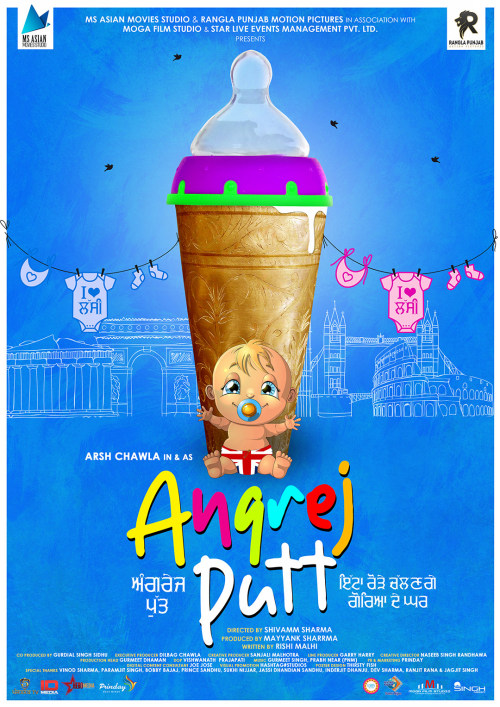 At the announcement of the film, lead actor Arsh Chawla said, "First of all the concept of the film is very unique and I am lucky that I got an opportunity to be associated with this project. I have already worked with Shivamm, this is our third collaboration together so I can completely trust his vision. And working together again will be very easy for us. I just hope that we are able to do justice to our part and everything goes well."
Director of the film, Shivamm Sharma said, "Angrej Putt is a wonderful script which is extremely close to my heart. Everything is properly planned and even in the pre-production stage, every minute detail has been taken care of. As the shoot is about to begin, we all are prepared and have left no stone unturned in the preparation of the film. I believe that people will appreciate our efforts."
Also Read: Kokka: New Punjabi Film Announced With Neeru Bajwa & Gurnam Bhullar In Lead Roles!
Mayyank Sharrma, the producer of the film quoted, "These days, filmmaking is constrained to weddings and meaningless comedies. That is why we thought to invest in a project which is not just a lighthearted film but will also come across as a fresh breeze for the Punjabi Cinema. We are sure that the film will win over the hearts of the audiences. We wish the whole team good luck."
The releasing date of the film will be revealed soon.
---