Kabootar, a new Punjabi film has just been announced for release in the coming year. Ammy Virk recently shared the announcement with the details of the film, it's lead starcast, the director and even the release date.
Starring Punjabi singer-actor Gurnaam Bhullar and Sonam Bajwa in lead roles, Kabootar is a 'cute love story' announced for release on 3rd April 2020.
Announcement Poster of Punjabi film Kabootar: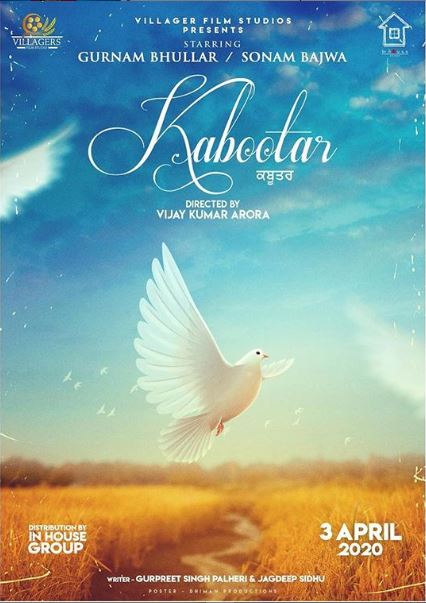 Ammy shared the new film announcement on his Insta handle and quoted, "Villagers film studio present KABOOTAR, cute love story... @gurnambhullarofficial @sonambajwa... Written by @gurpreet_singh_palheri and @jagdeepsidhu3 ... Directed by Vijay kumar arora... n mere te jaggi wallon special reqst to Gyaani bhaji v plz jaldi likh k de deo poori... Releasing on 3rd april 2020... by In house group... WAHEGURU JI SUKH RAKHAN"
Also Read: Exclusive: Gippy Grewal Starrer Under Vijay Kumar Arora's Direction To Start In July!
Evident from the post, the film is a romantic story of a couple played by Sonam Bajwa and Gurnaam Bhullar. The story is jointly penned by Gurpreet Singh Palheri and Jagdeep Sidhu and the film will be directed by Vijay Kumar Arora. The film is being made under Ammy Virk's home production Villager Film Studios.
Gurnaam Bhullar and Sonam Bajwa were seen together in the recent hit Guddiyan Patole.
---