Today, on June 6 at Chandigarh Press Club, National Congress gave away the title of state president of art and culture to the film actress Tejinder Kaur Sandhu alias Teji Sandhu .
On this occasion, Manjeet Singh Kalsi (President National Congress Indian National Congress Barricade) handed over the appointment letter of State President to Tejinder Kaur. Amongst those who were present were Gurjeet Singh Aujla (Member Parliament), Navjot Kaur Sidhu (former Health Minister), Dr. Jaswinder Singh Sandhu, Bunny Sandhu (OSD Navjot Singh Sidhu), Preet Inder Singh Dhillon (Senior Congress Leader Majitha, Amritsar), Jarnail Singh (Ex DSP, Vice President DCCC, Amritsar) and other Congress leaders.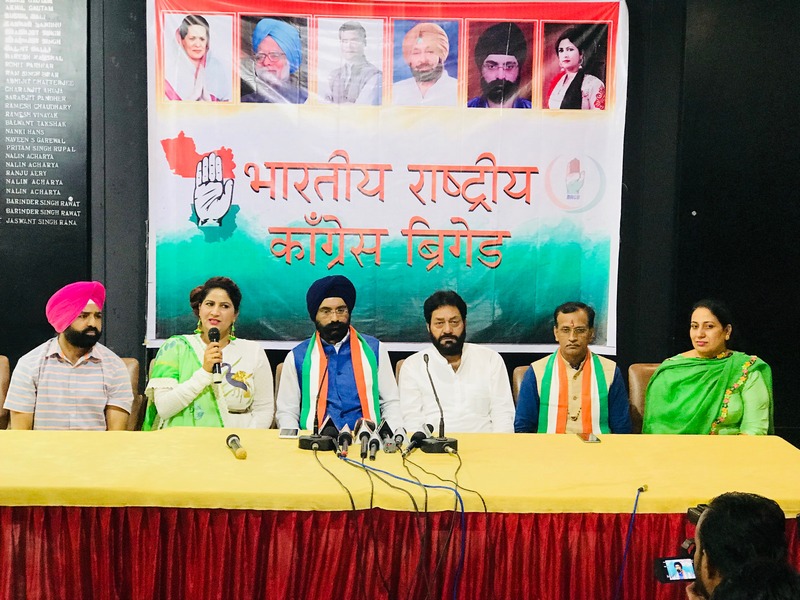 While interacting with the media, Tejinder Sandhu said that she would demand a subsidy from Punjab government for the shoot of Punjabi films. She even offered assurance that action shall be taken against the 'serious matter' of CASTING COUCH!!
Did she openly confirm that this practice is prevalant in Pollywood too??
In Bollywood, there is a humoungous amount of films that actors and actresses audition for so getting into wrong hands is a possibility but in a close knit industry like ours with just a handful of films, how can this be true?
Which roles are these that demand a casting couch?
If that is true then it shameful and this newly elected President assures that she'll keep this issue on her radar. She also said that the demand for a pension will be placed before the government, as the artists serving mother tongue have aged and have no other source of income. She also said that she'll make sure that religious films will be supported by the government.
Teji Sandhu aspires to take Punjabi to new heights and serve it all the time.
--The content has been extracted from a Press Release sent to Ghaintpunjab for publishing
---