Naseeruddin Shah, one of the talented actors that we have in the country has done a body work of spanning more than five decades. In such a long career span, he has been conferred with several prestigious awards like Padma Bhushan, Padma Shri along with 3 National Awards and 3 Filmfare Awards. Despite being known as an actor from the space of parallel cinema, he has done movies of various genres. Shah made his debut in the year 1975 with the film, 'Nishant' and after that there was no looking back for him as he has been a part of more than 100 films.
Well, not many of you might be knowing but this impeccable actor has featured in a Punjabi film. Any guesses, which one was it? Fret not! Read ahead to know all the deets!
So, Shah featured in a Pakistani Punjabi film titled, 'Zinda Bhaag', released in the year 2013. The film was the directing debut of Meenu Gaur and Farjad Nabi which was produced by Mazhar Zaidi. Also Read : Did You Know About Desi Girl Priyanka Chopra's Punjabi Connection?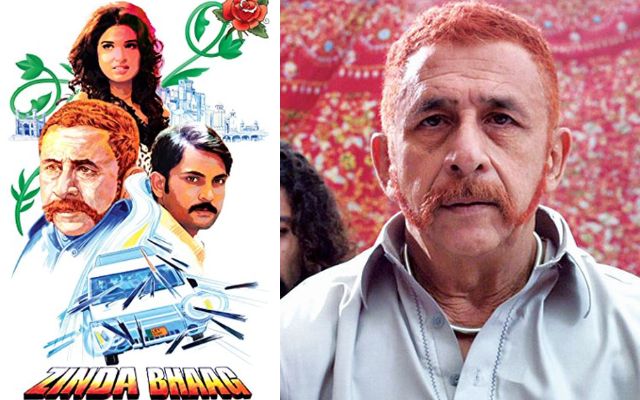 Talking about the storyline, the film highlighted the story of three lower-middle class friends, Khaldi (Khurram Patras), Taambi (Zohaib Asghar) and Chitta (Salman Ahmad Khan), all in their early twenties, struggling to end their dead-end existence by fleeing the country through illegal means (Dunki). The journey that unfolds gives us the insights about the illegal means which backfire tremendously. Also Read : 5 Times Katrina Kaif Got Punjabi Hearts Fluttering
In the film, Shah was seen playing the role of Pehalvaan, an orange-haired goon. It was his stories which were delivered in harsh Punjabi, that weaves the hope and tragedy in the story. His performance was so impactful that Shah was even nominated as Best Actor In A Negative Role in 1st ARY Film Awards.
Overall, the film had received a very positive response from the audience because of the engaging drama showcasing grim realities. Also Read : LMAO! Know About Diljit Dosanjh's Classic Outfit For His First Ever Stage Performance
The success of the film can be ascertained from the fact that it was Pakistan's first Oscar submission in 50 years but failed to make it to the shortlist. Apart from this, the film had won four awards at the International South Asian Film Festival in Canada. The film won a 'Special Jury Award' at the Jaipur International Film Festival.
The film also received five awards including Best Film (Jury) at the recently concluded ARY Film Awards held under the aegis of the Pakistani TV channel network, ARY Digital Network.
The film also won 'Best Film', 'Best Director' (Meenu & Farjad) and 'Best Actor' (Khurram Patras) in Pakistan's prestigious 'Lux Style Awards' and the 'Student Jury Award' at Festival du Film d'Asie du Sud Transgressif (FFAST) in Paris.
Reportedly, several filmmakers have negotiated for an Indian release.
---