The shift in the political atmosphere of Punjab in recent days has changed a lot of things. From Captain Amrinder Singh resigning to new members being added to the Punjab Pradesh Congress Committee, there is a lot of instability in the political sphere.
With Charanjit Singh Channi taking oath as the new Chief Minister of Punjab, everyone wondered who he is and how he became the new CM. Also Read: All You Want To Know About The Punjab's New Chief Minister, Charanjit Singh Channi
Along with all the information, an image of a young man in a gaudy outfit, coloured hair and earrings has gone viral with the claim that this was Channi in his early days. A Punjabi singer, before he became a politician.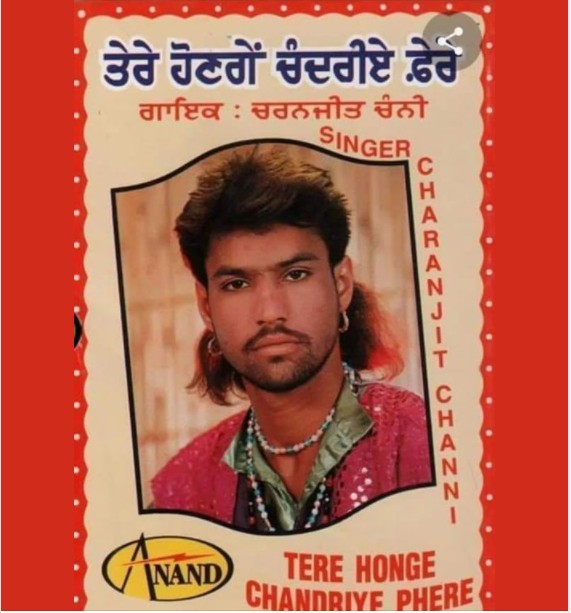 The picture is of a music album titled 'Tere Honge Chandriye Phere', along with the singer Charanjit Singh Channi's picture and name and the production company's logo 'Anand'.
Multiple Facebook users have also posted the image with captions like, "Meet the current CM of Punjab", "Old pic of new CM of Punjab" and "New CM of Punjab, memories of youth". Also Read: 'Shooter' Film Screening Banned In Ambala, Haryana!
However, let us clarify that both the CM and the singer having the same name is just a coincidence!
The album 'Tere Honge Chandriye Phere' was actually released on January 13 2004 and the picture is from there. Moreover, the actual singer of the song is not even in India, instead, he is currently living in the Philippines! So, the Punjab CM was never a singer before joining politics.
Except this, there are also the allegations from 2018, during the #MeToo movement, against Channi for sending an inappropriate text to a woman Indian Administrative Service (IAS) officer, which is being brought up by the National Commission for Women. Also Read: Punjabi Director Navtej Sandhu's Mother Passes Away!
Rekha Sharma, the Chairperson of the National Commission for Women has even asked for Channi to resign! Even though the case is still pending, Channi has said that the issue was resolved.
---
More Article..
---