A new mural of slain singer Sidhu Moosewala in Toronto has started a big debate amongst the locals, many of whom are demanding it to be taken down.
The mural erected as a mark of tribute to the slain singer is flanked by fellow rappers Tupac and Biggie Smalls along with Al Pacino's infamous characters from Scarface and The Godfather. Also Read : Shah Rukh Khan Meets With An Accident In USA, Undergoes Surgery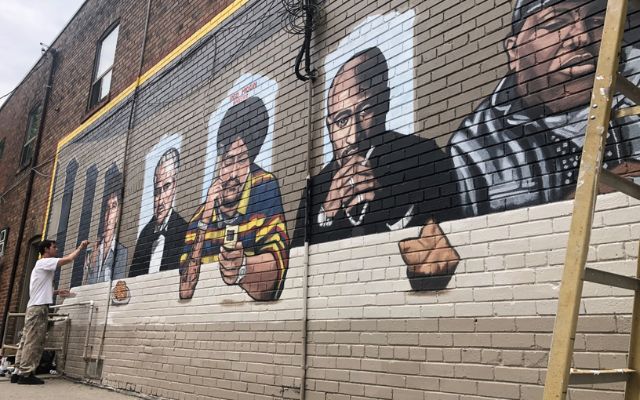 WHAT SPARKED CONTROVERSY?
Actually, people have objected to the mural show Sidhu holding a pistol and argued that the presence of pistol is actually in protest to gun violence, since four of the five figures portrayed on the wall lost their lives in gun violence. While many are criticising the mural on the grounds of it promoting violence, many are supporting it too. Also Read : After Attack, Deep Dhillon Decides To Move Back To India Permanently
As per a leading daily of Toronto, the artist behind the mural is known to clients as David Ji.
He revealed that he was hired by a friend to paint the mural which is on the same building as a Punjabi bakery and the owner of the business wanted Sidhu Moose Wala depicted. Ji said because there was an extra space, he decided to include other figures from pop culture. Also Read : First Look Poster Of Smeep Kang's Gaddi Jaandi Ae Chalaangaan Maardi Out, Releasing This October
In response to the criticism, he remarked that "the negative stuff that everyone talks about is just a small minority, they are very vocal, they are very rude, it's a specific demographic. I'm not going to get into it," he remarked. "The positive people have come up, taken pictures, bought me lunch, and bought me drinks." Ji stated that the painting does not show gun violence and that he hopes his employers are pleased with his work.
As a matter of fact, the previous mural showed an old train stopping at Islington Station.
---