Punjabi singer Sharry Maan really knows the art of being in the headlines. Right from his unfiltered opinions, superhit tracks and social media presence, the singer never fails to keep his fans entertained.
However, a recent post by the singer left all his fans quite worried and anxious. Actually, in a story shared on his social media the singer thanked his fans for their support from his debut album 'Yaar Anmulle' till now. Furthermore, he announced his new album, 'The Last Good Album'. Also Read : Sidhu Moosewala Fans Demand Legal Action Over Singer's Photo On A 'Gutkha' Packet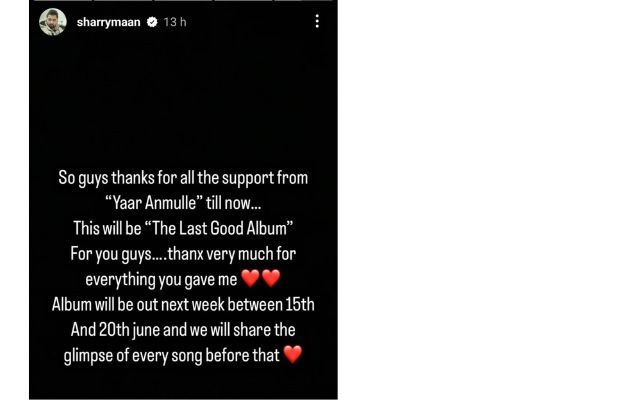 Now, everyone was taken aback by the word 'last' leaving everyone wonder if the singer is planning to quit singing or is he giving up on his music albums. Also Read : Damn! Jyoti Nooran Gets Into A Brawl With Fan, Paramjit Hans Demands Her Boycott
Well, we really hope that it is just a tactic as a part of album promotion, since he has already released first track from the album which is a spiritual one. By the way, do you really think that the singer must be planning to quit singing? We really hope not!
Don't forget to share your views with us in the comments section!
---