'Annhi Dea Mazaak Ae', a new Punjabi film starring Ammy Virk and debutante Pari Pandher in the lead roles is looking forward to its release.
Written and directed by Rakesh Dhawan, the film will also star Nasir Chinyoti, Iftikhar Thakur, Nirmal Rishi, Hardeep Gill, Amar Noorie, Deedar Gill and Gurdeep Grewal in the supporting roles. Also Read : Waah! Badshah Purchases A Plot Of Worth Rs. 3.80 Crores
Nearly a week back the team had shared the first look poster of the film feature Ammy Virk, Pari Pandher, Iftikhar Thakur and Nasir Chinyoti, giving out all the comic vibes. Well, the film was scheduled to hit the theatres on Apr 07 this year but now days after, the release date has been postponed.
In a story shared on the social media, Ammy Virk revealed that the film will now release on April 21.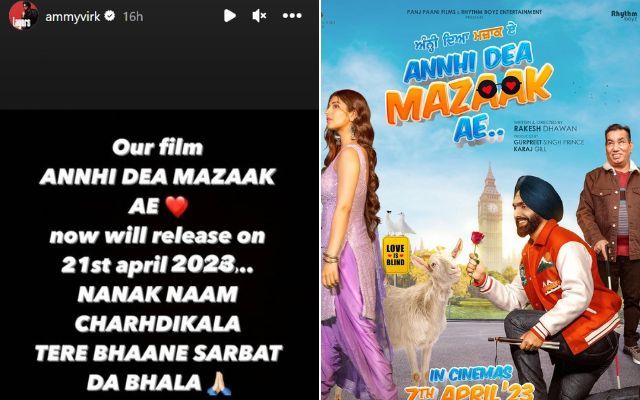 This rom-com is being produced by Gurpreet Singh Prince and Karaj Gill to be released under the banner of Panj Paani Films & Rhythm Boyz Entertainment. Worlwide distribution of the film is being looked after by White Hill Studios. Also Read : Sarwan Singh: Canadian Sikh Breaks His Own Guinness Record For World's Longest Beard
As a matter of fact, the team had started the shoot in the latter part of last year.
---