A few months back GhaintPunjab had exclusively reported that late actor Deep Sidhu was to do a couple of Netflix projects, one of which was in collaboration with director Prem Singh Sidhu but in this article, we've got all the deets about his second project with Netflix.
Recently, we got in touch with popular actor Daljeet Kalsi who was producing it in collaboration with the late actor.
He spilled several beans over the project and revealed that the project was titled, 'Khaadar'. Calling it Deep's 'dream project' he stated that this film was in similar lines to 'Mirzapur' but with an absolutely different flavour. Also Read : GhaintPunjab Exclusive: Here's An Update About Roshan Prince & Isha Rikhi Starrer 'Laddu Barfi'
Set in the backdrop of Muzaffarnagar area, the film was written by Amit Tomar, a Bollywood writer who also hails from that area. The characters were to speak Gujari language (spoken by Gujjars in Muzaffarnagar and Saharanpur). He had written it beautifully, Mirzapur de vi upar di cheez si. Deep Sidhu was to play the role of Dharamveer Gujjar, a thakur-brahmin who is a worshipper of Lord Shiva and could fluently recite Sanskrit mantras. I too was playing the role of 'Kaniya'. Being in its pre-production stage, we were planning to get it directed by Amit but then we got Amardeep Gill on board upon Deep's insistence who was his favourite director. He would always say, 'Eh na Gill sahab ton direct karvaunde han oh ehnu vadhiya karange'. Several expenditures and advances were already carried out and we had several meetings also. Also Read : Producer Pawan Gill's Company Forays Into Bollywood With 'Jersey' & 'Shehzada', Had Recommended Ammy Virk For 83!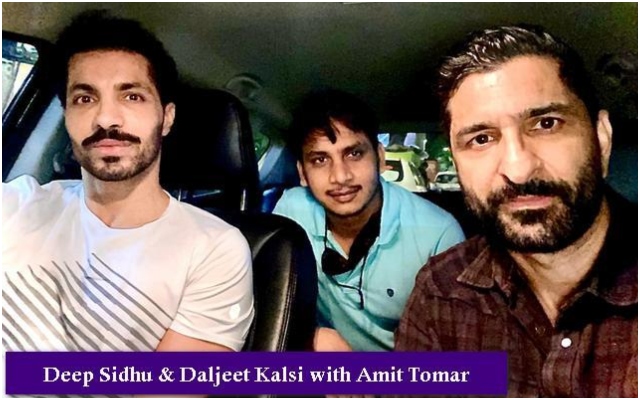 Furthermore, he shared that Deep had worked with legendary actor Jeetendra following which he had close ties with Ekta Kapoor also. Therefore, we intended to involve Ekta after signing everyone because Deep had discussed the project verbally with her and she had also liked it. It was his dream project. 'Khaadar' de layi oh bolna shuru karde si tan oh bahut gall karde si….eh eddan hoyega… eh baai character eddan hoyega…. bai appan othe jaake ravange…othe di language puri appan adapt karange…. humour ki hai oh kithe hasde ne.... kithe uhna nu bura lgda hai ...appan 3-4 mahine laavange' and this was our planning.
In addition to this, he also told that everything was on papers and they'd prepared a PPT also. "I think it was in January 2022 that we had a big meeting with all the characters in our mind but we were yet to contact them. We were considering seasoned actors like Jackie dada (Jackie Shroff) and Mukesh Rishi for the roles but the conversation went off in between". Also Read : Here's The Latest Update About Babbal Rai's Bollywood Debut, 'Noorani Chehra'
IF THE TEAM IS CONSIDERING ANY OTHER ACTOR FOR THE ROLE?
Just like we can't imagine 'Jora' without Deep, similarly now we can't imagine 'Khaadar' without him. Despite paying so many advances, I can't think of any other Dharamveer Gujjar because Deep is so deeply engraved in our imaginations that we can't think of anybody else. Oh Bas Khatam Hai Hun, and he signs off!
---