'Mogambo Khush Hua!'-A deep voice with a booming baritone whose most of the career comprises of numerous remarkable roles which are quite fresh in everybody's memory even today. His smouldering gaze and imposing presence made him stood out from the rest.
An actor par excellence left us too early but left a legacy behind for aspiring actors to follow. In a long career span, he not only graced Hindi films with his presence but also appeared in several regional films including Kannada, Telugu and Marathi. In fact, he had appeared in a Hollywood movie also, 'Indiana Jones and the Temple of Doom'. He won several laurels and appreciation for his works. Also Read : Punjabi Movies Om Puri Has Been A Part Of!
But do you know amongst a long career list, he had worked in a few Punjabi films! Let's take a lookback!
SAT ARI AKAL (1977):
'Sat Sri Akal' was released in 1977 which had Sunil Dutt, Reena Roy, Prem Nath, Parikshit Sahni and others. The movie was a humble tribute commemorating 300 years of Gurta Gaddi Diwas (Coronation) of Sri Guru Granth Sahib. Based on true events, the film was directed by Chaman Nillay.
CHANN PARDESI (1980):
Chann Pardesi, the serious drama which not only received a lot of appreciation worldwide but also created history by becoming first Punjabi film to win the National Award. Released in the year 1980, the film was directed by Chitraarth and produced by Swarn Sedha, Baldev Gill & JS Cheema.
The film included an ensemble cast of Raj Babbar, Om Puri, Kulbhushan Kharbanda, Rama Vij, Rajni Sharma, Sunder, Sushma Seth, Sunita Dhir, Mohan Baggan, Rana Jung Bahadur, Baldev Gill, Yograj Sedha, Gurcharan Baggan, Bharat Bhushan Verma, Waryam Mast, Pran Sabharwal, Mehar Mittal and Amrish Puri in the pivotal roles.
For the film, Shivendra Mahal had dubbed for Joginder Singh, the character played by Amrish Puri.
SHAHEED UDHAM SINGH (2000):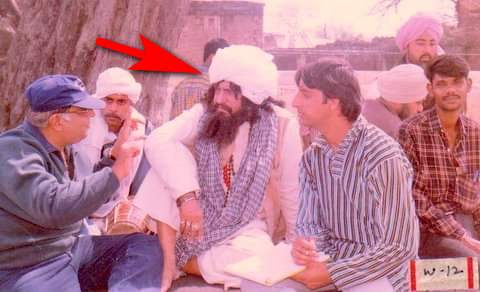 After a gap of two decades, Amrish made a comeback with 'Shaheed Udham Singh' directed by Chitraarth Singh, who too had returned to Punjabi Cinema after the same film. The film was considered to be the costliest film of its time. Shatrughan Sinha, Juhi Chawla, Gurdas Maan, Amrish Puri, Kimi Verma, Harsharan Singh, Palwinder Dhami, Rajendra Gupta, Tom Alter, Dave Anderson, Charline Carswell, Deepak Qazir, Gurkirtan, Pran Sabharwal, Prabhsharan Kaur, Gurdial Sira, Navtej Hundal, BN Sharma, Barry John, Darshan Aulakh, Gaurav Trehan, Jazzy Bains & Ranjeet played important parts in the film. Also Read : 4 Times We Saw The Character Of Sardar Udham Singh Being Played On-Screen!
Though Amrish Puri had a cameo role but his presence surely brought a charm on screen.
This was the list of the films he had been a part of.
Did we miss out on any name, do let us know in the comments section!
---