Popular Punjabi actress Mahreen Kaleka known for her roles in movies like 'Chamm', 'Haani' and others has recently welcomed her first child which is a baby girl.
The update was shared by the actress' husband, Kanwar on his social media handle with a couple of photographs along with the caption, "ਪ੍ਰਮਾਤਮਾ ਦੀ ਅਪਾਰ ਕਿਰਪਾ ਸਦਕਾ ਅੱਜ ਮੇਰੀ ਸਰਦਾਰਨੀ ਜੀ ਦੀ ਕੁੱਖੋਂ ਧੀ ਰਾਣੀ ਨੇ ਜਨਮ ਲਿਆ ਹੈ। ਮੈਂ ਵਾਹਿਗੁਰੂ ਜੀ ਦਾ ਕੋਟਿ ਕੋਟਿ ਧੰਨਵਾਦ ਕਰਦਾ ਹਾਂ। ਪਿਤਾ ਬਣਨ ਦੀ ਖੁਸ਼ੀ ਦਾ ਅਹਿਸਾਸ ਸ਼ਬਦਾਂ ਰਾਹੀਂ ਬਿਆਨ ਨਹੀਂ ਕੀਤਾ ਜਾ ਸਕਦਾ ਮੇਰੀ ਜ਼ਿੰਦਗੀ ਦੇ ਸਭ ਤੋਂ ਕੀਮਤੀ ਪਲ ਅੱਜ ਮਹਿਸੂਸ ਕਰ ਰਿਹਾ ਹਾਂ‌।" Also Read : This Punjabi Comedian Has Just Been Booked In A Fraud Case
In fact, Mahreen too reshared the congratulatory stories shared by her friends on their social media handle. Have a look! Also Read : Good News! Music Video Director Arvindr Khaira Gets Married – Pics Inside!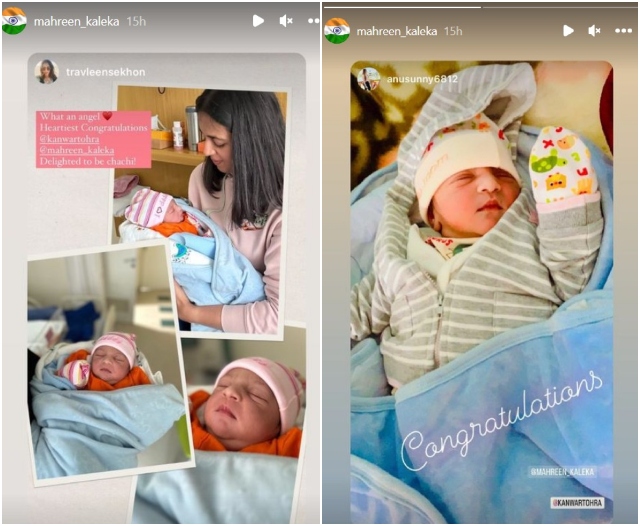 For the unversed, the actress got married last year in December to a Patiala based man, Kanwar Tohra.
Congratulations to the couple as they enter this new phase of parenthood!
---