Big Boss OTT fame Uorfi Javed has recently revealed that Obeda Afridi, Punjabi casting director who had allegedly harassed, blackmailed and threatened her on WhatsApp has finally been arrested by the Mumbai Police.
Uorfi taking to her Instagram stories shared the update in a series of stories. Have a look! Also Read : Ranveer Singh Becomes The Goodwill Ambassador For Hemkunt Foundation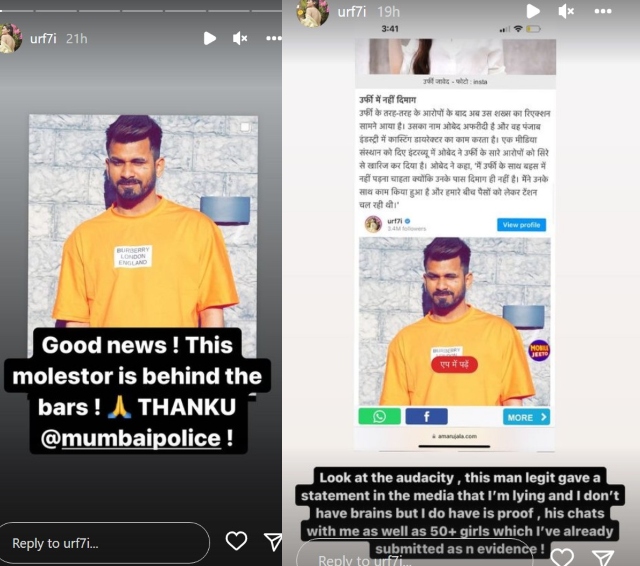 WHAT ALL HAD HAPPENED?
Actually, a few months back Uorfi Javed had accused Obeda Afridi, a Punjabi casting director of harassing her. Calling him a 'sexual predator', Uorfi had shared a series of stories on her social media handle where she had alleged him of sexually assaulting and not paying her for the shoot.
once again Uorfi once again had shared the screenshots of her WhatsApp chats with the director in which he can be allegedly seeking 'compromise' and 'video call sex'. Also Read : Nav Bajwa & Naman Hanjra Are A Couple?
In a caption along with the post,Uorfi had stated that two years back, someone had morphed her photo and started distributing it following which she had filed a complaint with the police following. Not only this, social media sensation had alleged the casting director of 'cyber raping' her. Also Read : Hotness Alert! Guri's Physical Transformation For His Next Is Jaw Dropping!
Furthermore, she had even called out Mumbai Police of not taking any action against the FIR that was filed a couple of weeks back in Goregaon police station. Expressing her disappointment over the police's inaction, she wrote, "I had heard so many good things about @mumbaipolice but their attitude towards this man is weird. Even after informing them that he has done with to idk how many women, still no action." Also Read : Oh No! Case Registered Against Mankirt Aulakh For '8 Rafflan'
As soon as the post was shared, several came in her support. Meanwhile one netizen wrote, "This is insane why no action has taken against him..Why do people do such things live freely without anyone guilt.This shouldn't be tolerated!" another commented, "Write a tweet to all Mumbai officials including women cell. This is so sad"
Not only this, she even took to her Instagram stories highlighting the matter and stated that she will be deleting the post in some days as she doesn't want to have the face of the man on her profile. Also Read : Wedding Bells On The Way For Karan Aujla And Fiancé Palak - See Dreamy Pics Inside!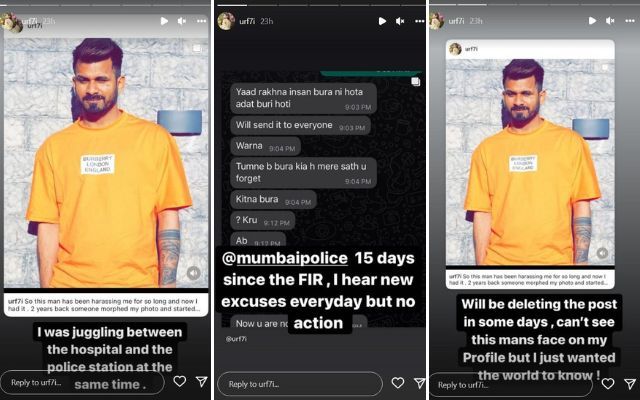 ---