Nearly three days after the news of the divorce of Punjabi Sufi singer Jyoti Nooran with her husband Kunal Passi broke, it has been reported that the couple has now reconciled.
Actually, a post under the name of Nooran Sisters has been going viral on social media which reads, "Dua Wich Damm Hai sangat Di…Jaldi Ikathe Milange Dua De Sadke Assi Do Nahi Ik Ha" Also Read : Gauri Singh's Comeback Punjabi Movie Is Titled, 'Asi Desi'

For the uninitiated, a few days back, the singer had organised a press conference in Jalandhar where she had accused her husband of embezzling nearly Rs. 20 crores. It was stated by the singer that Kunal had dissipated crores of rupees that she had earned from the shows worldwide. Managing Jyoti, he used to book all the shows. Thus, the account book of all the money stayed with him but now only Rs. 92,000 are left in her bank account, claimed singer. "I asked my husband several times for the account of the money, but he refused", she said. Also Read : Bet You Didn't Know About Nikeet Dhillon's Debut Bollywood Project!
Calling him a 'first-class addict', Nooran while addressing media persons had also revealed that she had married Kunal of her own free will in 2014. "At the time, I knew he was just smoking. About a year later, when he started assaulting me, it was revealed that he consumed opium, charas and ganja", she had claimed.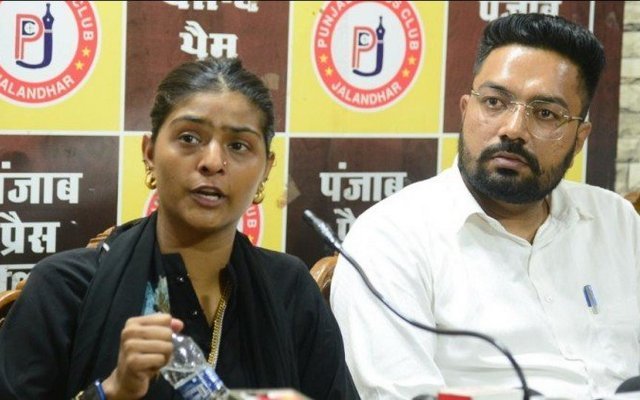 Furthermore, Jyoti had revealed that her husband wouldn't be managing any of her shows henceforth. Those interested in booking shows with her should approach her directly and not her husband.
Meanwhile, Jalandhar Rural SSP in an official statement, on the matter, had stated, "The complaint has been received from the singer. I have marked it to the DSP Women Cell. We can only comment on the matter after due investigation is carried out and the matter is looked into." Also Read : Did You Check Badshah's Coolest Genie Avatar?
On the other hand, Kunal Paasi in his defence had denied all the allegations laid against him. Rather he had claimed that it was his wife who would always snap at him. Even the singer's family had tried to make her understand and resolve the issues several times but she never listened to anyone.
NEERU BAJWA COMES IN SUPPORT:
As soon as the news of Jyoti Nooran's allegations broke out, Punjabi actress Neeru Bajwa too came in singer's support.
---