Popular lyricist-singer Jaani recognised for numerous superhit tracks including 'Titliaan Warga', 'Pachtaoge', 'Apsraa' and several others met a horrific car accident on Tuesday evening.
Reportedly, Jaani and two others were injured when their SUV, which is believed to be moving at breakneck speed, lost control in a collision. During the accident, their SUV flipped thrice after being hit by a Ford Figo in sector 88. Reportedly, the singer and his friends were sitting in the back seat. Fortunately, the airbags of both the vehicles opened and saved lives. The police have seemingly pointed out signal jumping of the red light as the cause of the collision between both the vehicles. Also Read : Nirmaan Turns Singer With 'Shayar', Launches His Own Record Label - 'One Step Music'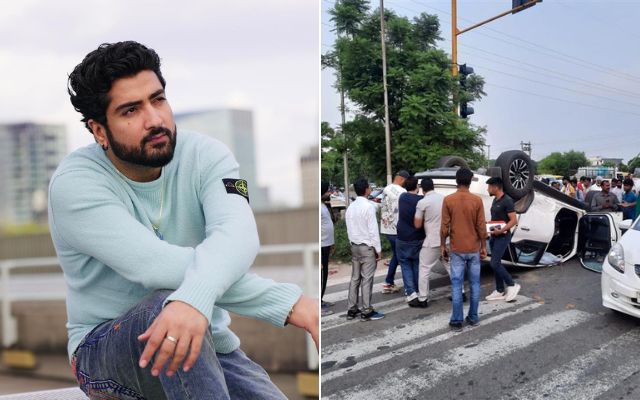 As per the Sohana station house officer (SHO), the accident took place around 6p.m. in the evening when the three were headed towards sector 91. Jaani has reportedly suffered injuries on his neck and back. The driver of the Ford Figo escaped unhurt as the air bag of his car also opened after the impact. "We have not received any complaints so far," revealed the SHO. Also Read : Can't Keep Calm Because Amrinder Gill Has Turned Director With 'Challa Mud Ke Nahi Aaya' - Teaser Out!
Meanwhile, Jaani also shared a note on his Instagram handle to share an update informing about his health to his fans and followers. The note reads, "With the grace of the almighty, we all present in the car at that time are fine. The authorities are doing their due diligence in the matter and we have been discharged from the hospital. Waheguru Ne Rakh Le…. Waheguru Da Shukr Hai". Also Read : Wah Ji Wah! Diljit Dosanjh Gets A Wax Statue At Madame Tussauds In Noida
Well, we too thank God that he and his friends are fine. Wish them a speedy recovery and best of health.
---
More Article..
---