Many a times, we've seen entertainment industry making projects inspired from the lives of our real-life legendary heroes. From Shaheed Udham Singh to The Legend Of Bhagat Singh, these films have brought out the life of these heroes with so much emotions and dedication that it has inspired many.
Well, today as June 27 marks the 184th Death Anniversary of Sher-e-Punjab, Maharaja Ranjit Singh, we're reminded of one Punjabi movie which was announced by popular writer, director and actor Amberdeep Singh based on the life of this legendary warrior. Also Read : Movies Updates: Films Releasing In July 2022
Just in case you forgot, let us remind you, a couple of years back Amber had announced a movie titled, 'Ucha Buraj Lahore Da' .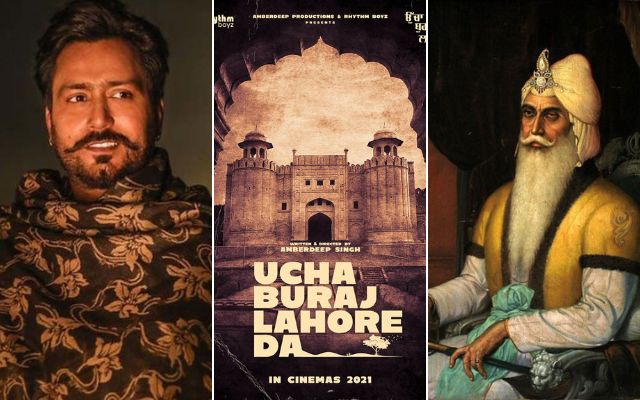 It was during the lockdown in 2020, Amber had shared the first look poster of the movie along with a caption, "Lockdown dauraan Ik zid paida hoi .. duniya nu cinema rahi Sikh empire dikhaon di zid .." which also revealed that the film is written and directed by Amberdeep himself. Also Read : G Khan Becomes 'Mama', Blessed With A Cute Niece!
However, ever since its announcement, so many projects of the director have released but sadly no information on this one has come to light which has actually left us wondering if the project is delayed or shelved.
Well, most of the Punjabi audience would be very keen to see a project on such a beautiful topic. What do you think? Also Read : Hey! What Happened To Ameesha Patel's Debut Punjabi Film?
All we can hope is amidst so many projects, Amber surely shares the update on this one supersoon.
For the unversed, let us tell you, also known as the Lahore Fort, this fort was lost by the Mughals to the Afghan Durranis, and finally it fell into the hands of the Sikhs who captured the fort from the Durranis who had recaptured the fort from the Marathas after they ruled it briefly. Bhangi Misl, one of the 12 Sikh Misls of Punjab that ruled Lahore from 1767 to 1799, were the ones who captured the fort from the Durranis. In 1799, the army of Maharaja Ranjit Singh took Lahore from the Bhangi Misl. His youngest son, Maharaja Duleep Singh was also born in the fort's Jind Kaur Haveli in 1838. The Treaty of Bhyroval was signed by Duleep in 1847 in the same fort, which brought the Sikh empire to an effective end. Also Read : Dear filmmakers! What's Up With These Horror Comedies Announced In Punjabi Cinema!
Maharaja Ranjit Singh's family controlled the fort and the city until the fall of the Sikh empire in the year 1849.
---