Popular singer Sidhu Moosewala may have left us forever but as they say artists never die and so is this icon who will always live through his works.
It was not the music but also the films that he did in his career spanning mere 5 years. These films may not be brought under the list of commercial successes but Sidhu fans surely loved him on 70 mm screen.
It was this love from his fans that he never paid heed on the financial aspect when it came to his work and kept on doing what he enjoyed.
Here we are taking a look back at the list of Sidhu Moosewala films you all should know about! Also Read : Alas! These Hollywood Rappers Wanted To Collaborate With Sidhu Moosewala
TERI MERI JODI:
This was the first film ever in which Sidhu Moosewala made an appearance. Though it was just a song in the dream sequence. The film was released in the year 2019.
Directed by Aditya Sood, the film starred Sammy Gill, Monica Sharma, King B Chouhan, Sammy Gill, Jazzy, Arshdeep Purba, Yograj Singh, Vijay Tandon and others.
Sidhu was away from the film industry for a couple of years but not from the limelight. During these years, Sidhu kept bringing his superhit singles including 'Old Skool', 'Tibbeyan De Putt', 'Bambiha Bole' and several others.
Apart from these tracks, Sidhu got indulged in several controversies as well.
MOOSA JATT:
Then it was nearly after two years, Sidhu made his acting debut with 'Moosa Jatt' in 2021 where Sweetaj Brar played the leading lady opposite him. While the film was written by Gurinder Dimpy, Dilsher Singh and Khushpal Singh had directed it.
In the film, Sidhu played the character of 'Moosa' who was orphaned at an early age and then raised by his uncle Jung Singh, a man of power. As he grows up, he finds out his family had died because of Sangha, a group cheating the farmers. The story thus follows revengeful fights. Also Read : Oh Balle! Sidhu Moosewala Becomes The First Indian Singer To Perform At Wireless Festival!
During the promotions of the film, Sidhu had revealed in an interview that he always wanted to make a film which can be connected to the villages, rural background and could portray the tragic life of a farmer in Punjab.
The film featured Tarsem Paul, Mahabir Bhullar, Pardeep Brar, Gurinder Dimpy and others in the supporting roles.
YES I AM STUDENT:
In the same year rather same month, Sidhu had his next release which was titled, 'Yes I Am Student'.
After Moosa Jatt, a few weeks later this film was released. Based upon the life of a student, Sidhu played the role of Jass Gill who had migrated abroad just like any other Punjabi guy in the search of better opportunities for himself. Also Read : When Sidhu Moosewala Wrote A Song For Sippy Gill!
Talking about his film choices in an interview, the singer turned actor had revealed his keen interest of working in realistic cinema.
As per Sidhu, he could relate to the character as he too lived abroad for sometime and had faced several hardships during that time.
These films were successfully released in the theatres but there were some more films which were being announced. Let's have a look!
GUNAH:
After 'Yes I Am Student', Tarnvir Jagpal had announced his second film with Sidhu Moosewala in 2020. The film was titled, 'Gunah'.
The film had to star best friends, Sidhu and Amrit Maan in the lead roles. The two had given superhit track, 'Bambiha Bole' in the past also. Also Read : Sidhu Moosewala's Luxurious Car Collection – Jatt Da Muqabla Kittey Vi Nahin!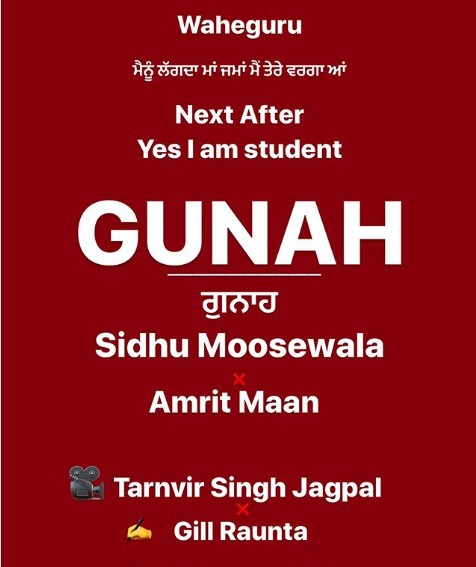 The release date was not announced for this one but it was scheduled to release in 2021. However, no update ever since then was shared by the makers.
JATTAN DA MUNDA GAUN LAGYA:
Lastly, another film which came as a surprise for many was in the year 2021 as Sidhu Moosewala had announced his next film which was titled, 'Jattan Da Munda Gaun Lagya'. The film was written and directed by Amberdeep Singh.
This much awaited film was anticipated to release on March 18, 2022 but that couldn't happen. Also Read : This Is How Shubhdeep Singh Became 'Sidhu Moosewala'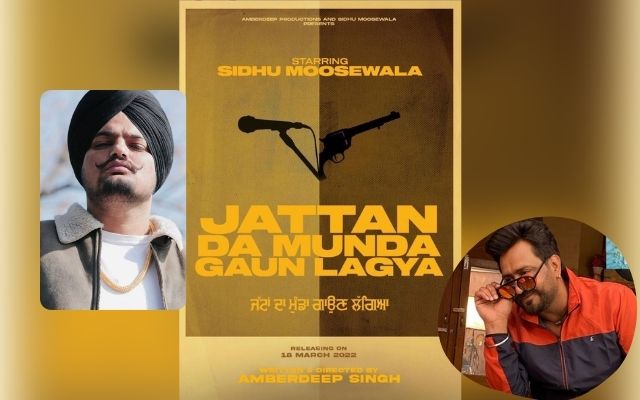 However, it was speculated that the film could be based upon life of Moosewala's real life as the poster portrayed two shades, one with a mic and the other with a gun, signifying the two sides of the singer's life.
It's very unfortunate and heart-breaking to see an icon who had so much calibre, an artist who brought revolution in the Punjabi music industry could've done even more had he not been treated with brutality. Such was his talent.
His demise is a loss which can never be fulfilled even in the years to come but we pray and hope he rests in power always!
---