Popular actress and social media personality Urfi Javed often finds herself to be on the receiving end of the vicious trolls because of her bold fashion choices and bizarre looks.
However, latest post on Urfi's social media makes one wonder how low can these nasty netizens stoop. Actually, Urfi shared a screenshot of hate comments that she has been receiving lately. Also Read : Movie Updates: Films Releasing In June 2022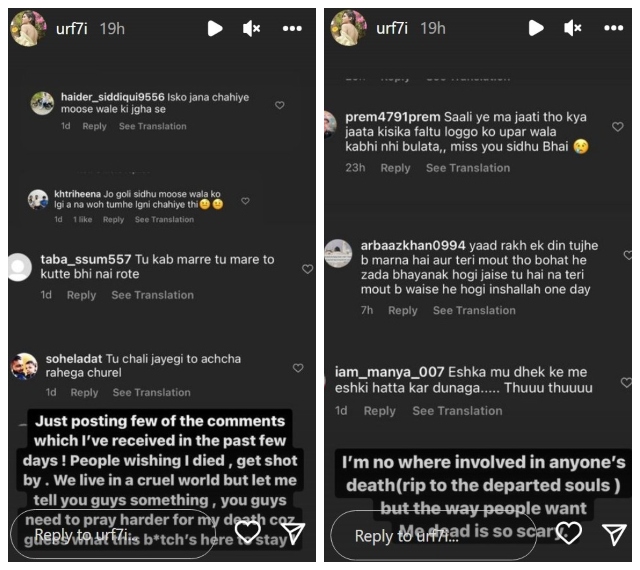 In these comments, some netizens can be seen wishing death for her. While one of the social media users mentioned how Urfi should have been shot instead of Sidhu Moosewala, another comment read, "Tu chali jayegi toh accha rahega (It will be good if you die)". Also Read : 'Mahi NRI' Actress Poppy Jabbal Is Now Married To Her Long-Time Boyfriend!
Well, replying to these trollers in her sassy style, Urfi wrote, "Just posting a few of the comments which I've received in the past few days! People wishing, I died, get shot by. We live in a cruel world but let me tell you guys something, you guys need to pray harder for my death coz guess what this b*tch's here to stay!"
Furthermore, Urfi added, "I'm nowhere involved in anyone's death (rip to the departed souls) but the way people want me dead is so scary." Also Read : Who Is Neeraj Bawana – The Gang Who Vowed To Avenge Sidhu Moosewala's Killing!
Well, what are your views on this, do let us know in the comments section.
---