Among all the famous faces of the Punjabi industry, B.N. Sharma is one that comes to mind when talking about comedy and the fun factor. But do you know how the actor began his journey in Punjabi films?
From playing a negative role in Jalandhar Doordarshan's Punjabi soap 'Jeb Katre (1985)' to becoming a prominent comic face in the industry, Sharma has been a part of many television serials, films and shows including Jaspal Bhatti's ventures like 'Flop Show', 'Ulta Pulta' and 'Full Tension'. Also Read: Singer Harjit Harman Prays For Team Member Vishal Sharma. Here's Why!
Coming back to the topic, through all this success, the first Punjabi film B.N. Sharma did has been overlooked and if you too don't know the answer, worry not just continue reading ahead…
Well not to keep you all in suspense, the first-ever Punjabi film B.N. Sharma did was the 1987 film 'Vaisakhi' which was a huge hit in theatres at the time! The film was directed by Harjit Singh and the cast included actors Deep Dhillon, Sunita Dheer, Sardool Sikandar, Amar Noorie, Adarsh Gautam, Seema Kanwal, Arun Bali, Jatinder Bhardwaj and B.N. Sharma in it. Also Read: Wow! Diljit Dosanjh's Luxury Car Collection Is Magnificent
Sharma has done major roles in over 70 Punjabi films and even won awards including the 'Best Actor in a Comic Role' award at the PTC Punjabi Film Awards. Also Read: What's The Story Behind Shri Talhan Sahib, The Gurudwara That Confirms Your Trip Abroad?
P.S. we even found this old newspaper clipping about the film.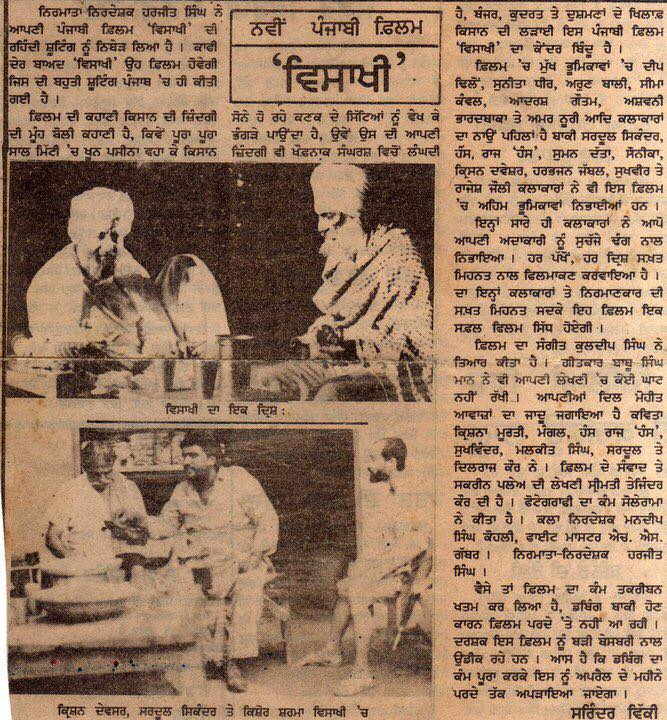 ---