We know how much people love Punjabi films, especially since the industry grew so much. So to make the process of knowing which film is releasing when without all the hassle, here is a compiled list of films releasing in March 2022!
Week 1:
During the first week of the month, we have a super special film and high expectations from this one! The film releasing on March 4, 2022 is:
Main Viyah Ni Karona Tere Naal
Another film sporting the Gurnam Bhullar and Sonam Bajwa Jodi on screen, 'Main Viyah Ni Karona Tere Naal' is supposed to release in March. The film written and directed by Rupinder Inderjit is actually a special one as it will mark the debut of singer Gurnam Bhullar as a producer! Also Read: Amar Sehmbi Welcome A Brand New Fortuner To The Family!
Week 2:
Entering the second week we have just one film planned till now, which will release on March 11, 2022. This one is…
Pher Mamlaa Gadbad Hai
The Sagar S Sharma directorial 'Pher Mamlaa Gadbad Hai' is expected to be a comedy just like any other Punjabi film. The film will star Ninja and Prreit Kamal in the lead roles along with B.N.Sharma, Upesh Jangwal and others. Also Read: When Sidhu Moosewala Wrote A Song For Sippy Gill!
Week 3:
After a peaceful second week, the third one has the audience making a choice once again! Releasing on March 18, 2022 there are two films – Amrit Maan's 'Babbar' and Sidhu Moosewala's 'Jattan Da Munda Gaun Lagya'.
Babbar
Marking the debut of Amrit Maan and Desi Crew as producers, 'Babbar' seems to be an action-thriller with Maan in the lead role. The poster of the film indicates violence and that Amrit Maan will have to play a serioud role in this one. It is written and directed by Amar Hundal.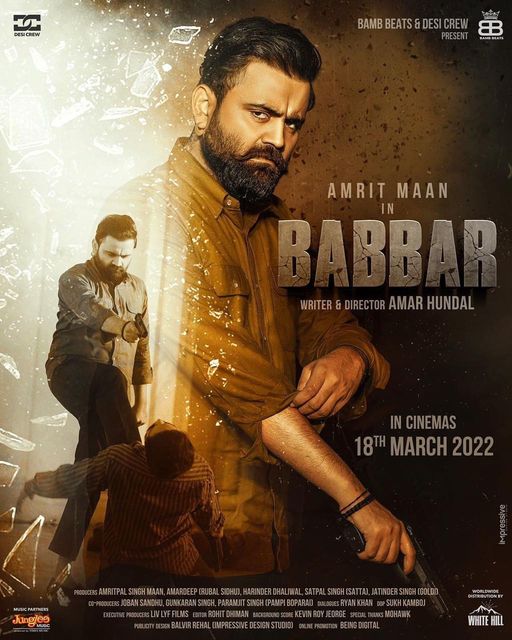 Jattan Da Munda Gaun Lagya
Director Amberdeep Singh's 'Jattan Da Munda Gaun Lagya' will star the controversial singer, actor and now politician Sidhu Moosewala. Yes, you read it right! After his lead debut in 'Moosa Jatt' and 'Yes I Am Student', the actor will be seen in this project. Looking at the poster, we can speculate that the film shows two sides of a singer's life. Also Read: What Is The Name Of The Female Model In The Punjabi Song 'Dilli Sara'?
Week 4:
In the last week of March we have yet another fan-favorite lined up. Releasing on March 25 2022, the fans are eagerly waiting for the Ranjit Bawa starrer 'Parahuna 2'!
Parahuna 2
The sequel to the Kulwinder Billa and Wamiqa Gabbi starrer 'Parahuna', 'Parahuna 2' will have the floor to itself as there is no other Punjabi film releasing on this date as of now! The movie will star Ranjit Bawa and Aditi Singh in lead roles whereas Tanvi Nagi, Gurpreet Ghuggi, Prabh Grewal, Malkeet Rauni and Amanat Chan will also be seen in the film. The movie is written by Dheeraj Kedarnath Rattan and directed by Ksshitij Chaudhary. Also Read: Do You Know About Shahid Kapoor's Punjabi Connection?
Our list ends here, but fret not, in case of any changes we'll update you as soon as there are any changes! Also, do comment below the films you'd go to the theatres to watch.
---