It is just a start of 2022 and we have so many Punjabi artists getting married. It was just a few days back we informed you about Jagjeet Sandhu, who will be getting married soon and before that Jordan Sandhu had got married.
Now we have another on the list!
So, this time it is none other than popular singer and music composer Goldboy who got hitched to his lady love, Harmeen. The wedding undoubtedly was a star studded affair where many artists from the industry including Nirmaan, Aatish,G Khan, Khan Saab and other were seen attending the wedding and having a gala time. The wedding took place in Tanda, Punjab. Also Read : Wedding Bells On The Way For Jagjeet Sandhu!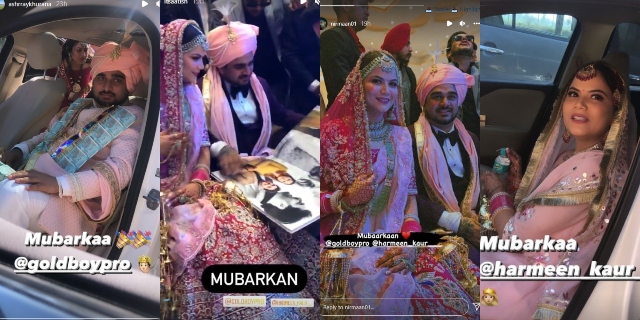 For the unversed, the couple had got engaged last year and Goldboy had posted an adorable picture on social media with the caption, "Meri zindgi vich aaun lai …..Waheguru tera shukar" Also Read : 'The Shepherd' New International Film Based On The Farmers Protest Announced!
Well, we too really wish the newly hitched couple a very happy married life and wish these two togetherness till eternity. With social media so easily accessible to everyone, with a single post, suddenly a so called private ceremony becomes a little too public. Also Read : 10 Reasons Why A Punjabi Girl Is The Perfect Date!
No more hiding your marital status eh! It is good to see that unlike a few, artists these days are becoming more open about their personal life.
---