Situated on the banks of river Satluj, Ludhiana is known for being the largest industrial hub of Punjab, especially in the clothing department. But it is not just restrained to manufacturing clothes; it actually has a lot of talent spurring in the city.
Here are some talented names you might recognize, who hail from the city of Ludhiana. Also Read: AP Dhillon Makes It In Forbes 30 Under 30 For 2022!
Karan Aujla
The 'Mexico' singer is actually from the Malwa region of Punjab. Born in the village Ghurala, district Ludhiana, Aujla has slowly but definitely risen to the fame he has now!
He was born on 18th February, 1997 to his father Balwinder Singh Aujla and mother Rajinder Kaur, unfortunately, he lost both his parents when he was really young. It was at the age of 15 that this talent was discovered and it won't be wrong to say that Aujla hasn't looked back since!
What is your favorite Karan Aujla song? Also Read: Britain's First Female Powerlifter Is A Sikh! Do You Know Her Story?
Ninja
Ninja (originally named Amit Bhalla) is a Punjabi playback singer and actor, best known for his songs like 'Aadat', 'Oh Kyu Ni Jan Sake', 'Roii Na', 'Thokda Reha' and 'Gall Jattan Wali' among others. The talented singer hails from Ludhiana and even received his musical training from Ustad Harvinder Bittu of Ludhiana.
He made his singing debut with the song 'Annd Mand Ka Tola' in 2014 and began acting with a lead role in the 2017 film, 'Channa Mereya'. In an interview, the singer even opened up about the difficulties he faced during his struggle.
Jaswinder Bhalla
The first time we saw the comedian Jaswinder Bhalla turn actor was with the film 'Dulla Bhatti (1998)'. After that he worked in Punjabi feature films like 'Mahaul Theek Hai', 'Jeeja Ji', 'Jihne Mera Dil Luteya', 'Power cut', 'Kabaddi Once Again', 'Apan Phir Milange', 'Mel Kara De Rabba', 'Carry On Jatta', 'Jatt and Juliet', 'Jatt Airways' and many more. He adds his own flavor in these films with different Takia Klams like the ever famous "Dhillon Ne Kaalaa Cot Aiven Ni Payeya". Also Read: Actors Hobby Dhaliwal and Mahie Gill Join Politics!
Bhalla hails from the city of Ludhiana. Moreover, he began his career as an Assistant Professor in PAU, and was serving as a Professor and Head, Department of Extension Education when he retired from active service on 31 May 2020. Did you know that he also performs stage acts and has done tours of Canada and Australia for his stage show 'Naughty Baba in Town'!
Jassie Gill
Jassie Gill is not just a singer and actor but also a loving father to Roojas Kaur Gill. Gill made his debut in 2011 with the album 'Batchmate' which included the song 'Churiyan'. He gained popularity with the song 'Lancer' which was a part of the album 'Batchmate 2 (2013)'.
His first appearance on the silver screen was with 'Mr & Mrs 420 (2014)' for which he even won the 'Best Male Debut' award by PTC Film awards. Then he set foot in Hindi cinema with the 2018 comedy 'Happy Phirr Bhag Jayegi'.
Gill was born as Jasdeep Singh Gill in a Jat Family in Jandali village near Khanna in Ludhiana district of Punjab. Also Read: Jatt Brothers Trailer Review: Not Too Excited But We're Still Keeping A Close Watch On Jass Manak's Acting!
Prabh Gill
From emotional tunes like 'Taareyan De Des' to peppy beats like 'Notorious Jatt', Prabh Gill is a talented singer in the Punjabi industry. Gill was born in Ludhiana, Punjab on the 23rd of December, 1984.
Gill's music journey began when he joined music classes at 12-years-old. Then after 10th Grade, his dad introduced him to C.L.Bhalla, who became his music teacher. After his studies, Gill was clear about pursuing music as a career.
Growing up, he listened to the likes of Ustaad Nusrat Fateh Ali Khan, Kuldeep Manak, and Mohammed Saddiq. Not only this, Prabh Gill made his acting debut in 2021 with 'Yaar Anmulle 2'.
Jasleen Royal
The voice behind songs like 'Din Shagna Da' and 'Ranjha', Jasleen Kaur Royal, commonly known as Jasleen Royal became a hit among the public as soon as her voice reached the listeners. Also Read: 10 Reasons Why A Punjabi Girl Is The Perfect Date!
Royal is majorly self-taught and has no formal training in music. She entered the Indian music scene in 2009 when the then 18-year-old entered the first season of the singing competition 'India's Got Talent'. What made her stand out was her ability to play multiple instruments at the same time like the guitar, mouth organ, flute and a tambourine while singing. Moreover, she can also play the keyboard. Due to this talent, she was named 'one-woman band' on the competition, where she even qualified as one of the semi-finalists.
Royal completed her schooling from Ludhiana and then moved to New Delhi for further studies. As of now, she is living in Mumbai while working on Bollywood projects.
Divya Dutta
The multi-talented Indian actress and model Divya Dutta has appeared in not just Hindi and Punjabi films but also Malayalam, Nepali and English language movies! Dutta caught everyone's attention with her role as Zainab, a Muslim wife separated from her Sikh husband during her Pollywood debut in 'Shaheed-e-Mohabbat Boota Singh (1999)'.
Before venturing into cinema, she modeled for regional television commercials in her home state of Punjab. In 2001, she appeared in the music video "Romeo" by music duo Basement Jaxx, from London, England. Dutta was born on 25 September 1971 in Ludhiana, Punjab.
Yograj Singh
The cricketer turned actor and then director has been a part of the Punjabi film fraternity for a long time. Singh played one Test and six ODIs for India as a right-arm fast-medium bowler. However, after an injury, Singh could not get back on the active cricket field for some reasons.
Then he got to meet with Actor-Director Veerendra, after which, Yograj decided to get into acting. He made an impressive debut as a side villain in the 1983 film, 'Batwara'. Not only this, he has also worked in Bollywood movies like 'Teen Thay Bhai', 'Singh is Bling' and 'Bhaag Milkha Bhaag'. Also Read: 4 Common Things Between Sindhis And Punjabis!
Singh comes from the village of Kanech, right next to Doraha, in Ludhiana District of Punjab.
Gurlej Akhtar
Punjabi singer Gurlej Akhtar, known for her songs like 'Defaulter', 'Raule', 'Pasand Bangi', 'All Bamb', among others, is yet another famous name from Ludhiana and hence in this list!
Gurlej's journey in music began from a tragedy. When her father passed away, she was in Grade 8, being the eldest Akhtar turned to music to provide for her family. Some well-wishers supported her to do so, and it was then that she started her career by singing with Sukhbir Sukhi, back when she was just in class 9. She is a very versatile live performer, and performs almost every other month in countries like Canada, Australia and seldom in the US too!
Japji Khaira
The Indian-Australian actress Japji Khaira entered the film industry in 2007 with her film, 'Mitti Wajaan Maardi'. Before that, Khaira became the first NRI Punjaban to win the title of 'Miss World Punjaban 2006'.
After her debut, she did films like 'Dharti (2011)', 'Singh vs Kaur (2013)', 'Bhaji in Problem (2013)', 'Ardaas 2 (2019)', 'Jora: The Second Chapter (2021)', etc. other than this she has also done a web-series 'Gangland in Motherland' and featured in Mankirat Aulakh and Shree Brar's song 'Ali Baba'. Also Read: Another Film Announcement, This One Is Titled 'Cheta Singh'!
She was also born in Ludhiana, Punjab.
Tanvi Nagi
Tanvi Nagi is a model, actress, singer and entrepreneur. She has worked in multiple Punjabi music videos in which she made her debut with 'Aa Zra' by Maninder Kailey, while for films, her debut was in 2016 with 'Once Upon A Time In Amritsar'.
This Ludhiana born even has her own fashion label which specializes in Indian suits and apparel. Her label is called 'Tanvi Nagi Closet'. Other than films she has already done, Nagi is expected to be seen in 'Parahuna 2' and 'Ni Main Sass Kuttni', which are both upcoming projects for 2022.
Amar Singh Chamkila
Known as the 'Elvis of 1980s Punjab', Amar Singh Chamkila (originally named Dunni Ram) was born in the village of Dugri near Ludhiana, Punjab in 1960.
The talent was introduced to the Punjabi industry by legendary folk singer Surinder Shinda. He said that an 18-year-old Chamkila approached him for the first time on a bicycle with his friend Kuldeep Paras. When Shinda heard the musician sing, he had found the perfect protégé. Also Read: Check Out Neetu Singh's New Curvalicious Avatar!
Over the years Chamkila sang a number of remarkable songs which made him a legend. Sadly, his time was short-lived as when Chamkila was in the peak of his career, tragedy struck! On 8th March 1988, Chamkila and Amarjot had a concert in the village Mehsampur in Jalandhar district where they were shot and declared dead on the spot.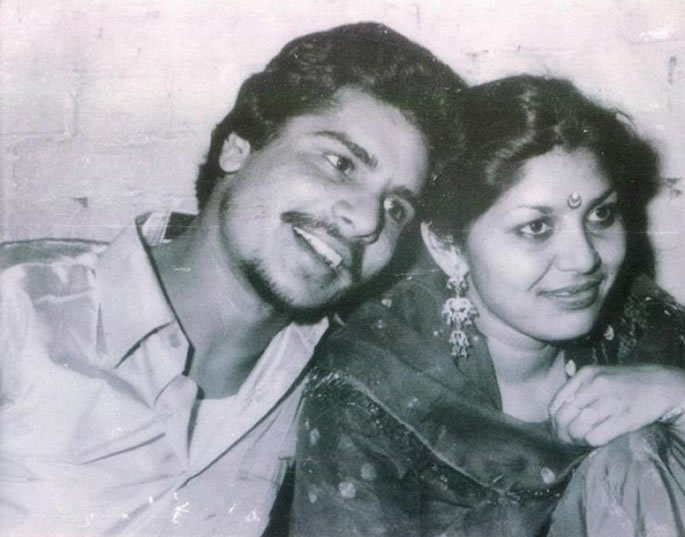 Ishmeet Singh
Though short-lived, Ishmeet Singh enjoyed the love and recognition he got from entire India but specifically Punjabis. The youngest winner (17 years old) of Star Plus' 'Amul STAR Voice of India' released his first album, which was 'Satgur Tumre Kaaj Savaare', a religious album as soon as he got out from the show.
Ishmeet was the talk of the town thanks to his voice and singing style, which was quite similar to that of singer Shaan. Singh was born on 2 September 1988 in Ludhiana, Punjab to a Punjabi Sikh family, namely father Gurpinder Singh and his mother Amritpal Kaur.
Unfortunately, Singh left the world behind in 2008 the cause of which is suspected to be drowning.
Dharmendra
The 'He-Man' of Bollywood aka Dharmendra, also hails from Sahnewal, a village in Ludhiana district, Punjab. He was born on 8 December 1935 to Kewal Kishan Singh Deol and Satwant Kaur into a Jat Sikh family. His ancestral village is Dangon, near Pakhowal Tehsil Raikot, Ludhiana. Also Read: The Song 'Teri Mitti' Is Actually Copied!?
Dharmendra is not just an actor but also a producer and politician! He has worked in over 300 films in a career spanning five decades. He has received several awards over the years including the 'Filmfare Lifetime Achievement Award' for his contribution to Hindi cinema. Moreover, in 2012, he was awarded India's third-highest civilian honor Padma Bhushan by the Government of India.
This is where our list ends and we realize that there are so many other talented people and famous names like Ish Sodhi, Navjot Kaur Sidhu, Simi Garewal, Abhinav Shukla, Kimi Verma, Navv Inder, Pankaj Kapur, etc whom we haven't included but that does not mean that their work is any less. Also Read: If You're Listening To AP Dhillon Recently, You Ought To Know Who Gurinder Gill Is!
This list is endless and we cannot include every name in this one. So comment below the names of people from Ludhiana that you follow the most!
---